Seein how I'm here first I'll go sort some m&ms.
Yum.
Are you sure nothin needs the BOOM treatment???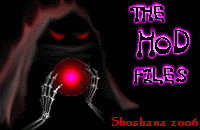 Thank you Kel, Bt and Mai for all your dollz and gifs.
"If the pen is mightier than the sword and a picture is worth a thousand words, is a camera a weapon of mass destruction? "


Official Scribe to the Harbinger of Death
Mystress of Minutiae {{{BonaDea}}}
The Seeker of Truth and Miniscule Facts {{{dragonlady}}}
Finder of Lost Knowledge and the Lost Archive {{{Amyrlin}}}, {{{Hebea}}} -
you hide'em we find'em

A Fountain of Information {{{Herkite}}}
"who said you had to have only one?" {{{Calico}}}
Honorary Pygmy Amazon and important Archivist, too!! {{{frannyd}}}
Reply Button Booster #55 {{{Bluetopaz}}}
Nanaea's Special Grand Schlock Sci-Fi Horror Lovers Award Winner
Deb U Graduate 2005 - with Honors
Devious Deb - Mistress Of All Things Technical

GAS! Priestess - Ares' Official Photographer