I LOVE this!
(Thanks to Mondo over at The House)
***********************************************************************
http://www.youtube.com/watch?v=dVUU3p5iHMA
************************************************************************
A pretty complete transcript but some stuff such you really get full benefit of from watcing the video.
*************************************************************************
Ancient Knowledge Pt.1
Consciousness, Sacred Geometry, Cymatics, Illusion of Reality
(Excerpt from the movie Intrigue)
"I want you to listen."
"And then what?"
"Share."
"With?"
"Whoever you share with,
the people you're close to.
. "
Tonight's talk is Consciousness, Creativity in the brain, and if you have a gulf sized ball consciousness, when you read a book, you'll have a golf sized book understanding. When you look out, a golf sized ball awareness, and when you look out in the morning, a golf sized ball wakefulness.
But if you can expand that consciousness, then you read the book, more understanding. You look out, more awareness, and when you wake up, more wakefulness. It's consciousness. And there's an ocean of pure, vibrant Consciousness inside each one of us and its right at the source and base of mind, right at the source of thought and it's also at the source of all matter."
"There is no matter as such. All matter originates and exists only by virtue of a force which brings the particle of an atom to vibration and holds this most minute solar system of the atom together. We must assume behind this force the existence of a conscious and intelligent mind. This mind is the matrix of all matter. "
Max Planck
"Matter seems like a good place to begin. The solidity of the world seems totally indisputable, as a fixed thing that you can see and touch. Your body is also reassuringly solid. Beginning with Einstein, modern physics has assured us that this solidity is a mirage. "
ALL PHYSICAL MATTER, EVERYTHING WE HAVE AROUND US IS A RESULT OF A FREQUENCY AND WHAT THAT ALSO MEANS IS, THAT IF YOU AMPLIFY THE FREQUENCY THE STRUCTURE OF THE MATTER WILL CHANGE.
**********************************************************************************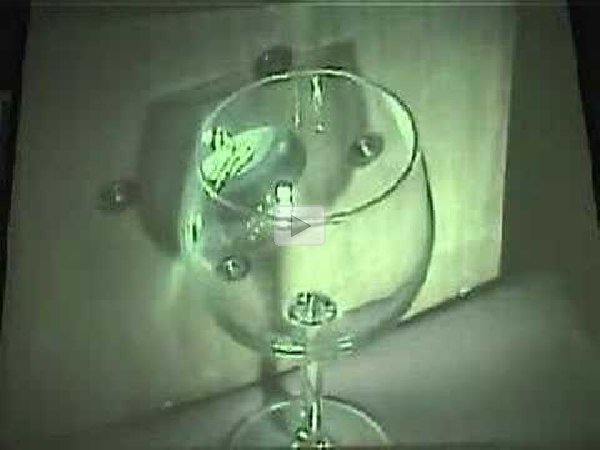 OSCILLATING A WINE GLASS BY PLAYING SOUND AT IT'S RESONANCE FREQUENCY, WILL CAUSE IT TO MOVE, CHANGE AND LIQUIFY ITS STRUCTURE AND EVENTUALLY EVEN BREAK IT.
BY THE WAY, THIS IS WHAT PRIMITIVE PEOPLE WOULD CALL "MAGIC". I'M NOT TALKING ABOUT MAGIC TRICKS, BUT RATHER UNSEEN FPRCES AT WORK. LET'S MOVE ON.
The film you are about to see has no characters, it has no people. It is a film to describe to you and explain visually the effect of cymatic frequencies on texture, structure, water, oil. You will see many things that answer many questions. You will see living forms, living amoeba, almost animal like creatures. You will see continents being formed, the earth itself coming into existence. Explosions, eruptions, atomic explosions and bombs. You can see all this and watch it before your eyes.
Everything owes its existence solely and completely to sound.
Sound is a factor which holds it together.
Sound is the basis of form and shape.
In the beginning was the Word and the Word was God.
We are told that this is how the world began and how creation took shape.
If we put that into the modern idiom, and say that into the Great Voids of space came a sound and matter took shape.
Please watch carefully.
"We can also use different shapes of plate. Here we have a triangular plate with a crystal attached to its underside and produce a sonorous note. We change to a higher note and see a rather more complicated figure.
EVERYTHING IN EXISTENCE IS THE RESULT OF A FREQUENCY. THE BIBLE TELLS US THAT IN THE BEGINNING WAS THE WORLD, AND THE WORD WAS GOD.
WORD=SYMBOLIC FOR SOUND FREQUENCY
The Bible is encoded with deep knowledge and depending on your level of knowledge, you will either get the real meaning or you will not. If you take the Bible literally that's there's an invisible sky daddy looking down on us, then I can't help you. The Bible is not just a fairy tale. It is our guide to life and full of scientific facts.
THERE IS MUCH MORE TO LIFE THAN YOU CAN SEE WITH YOUR 5 SENSES.
Sound made visible.
https://lh6.googleusercontent.com/-JQ1ONPdZ59Q/TYUOTSRDAeI/AAAAAAAAAHs/NpW2QgDMTQY/IMG_2135.JPG
SACRED GEOMETRY
Now let us take a look at Ancient sightings and what is called Sacred Geometry.
There is significant meaning behind geometric patterns.
"THE ANCIENTS" KNEW MUCH MORE THAN GIVEN CREDIT FOR REGARDING LIFE, THE UNIVERSE, ASTRONOMY, ADVANCED MATHEMATICS, MAGNETISM, HEALING, UNSEEN FORCES ETC.
ENCODED KNOWLEDGE IS INFORMATION THAT IS CONVEYED IN SIGNS AND SYMBOLS. WE JUST FAILED TO REALISE THIS. HOWEVER, THIS KNOWLEDGE IS KNOWN TO A SMALL HANDFUL OF PEOPLE AND ITS KEPT HIDDEN FROM THE PUBLIC.
"Quantum physics has revealed what ancient masters knew. Matter does not exist. The concept of substance arose from the philosophy of Aristotle (384 BC – 322 BC) and from that concept came science's conception of matter. The fact of the matter is that the substance of the universe is consciousness. Belief that the substance of the Universe is matter leads to what I call a fear – greed dichotomy, as people in their quiet desperation attempt to accumulate as many material, possessions and riches as possible. In fact, the substance of the universe is consciousness, therefore it is behaviour that is important."
The daily life we perceive we have five senses is not reality. Quantum physics has shown that space and time are illusions of perception; therefore our bodies cannot truly be a reality if they occupy the space.
Ernest Rutherford performed an experiment in Manchester that revealed to him the shape of the interior of an atom. Scientists were shocked to discover that the atom is almost entirely empty space. The question then became, how could this empty atom possibly make the solid world around us?
How can an almost empty atom possibly make the solid world around us?
"Our true consciousness does not exist in our brain or in our bodies. But this illusion of our individual bodies along with the misinformation of our true origins has manifested the idea that we all think independently from one another. With this misunderstanding it would seem impossible to scientifically explain telepathy, clairvoyance, spiritual mediums and other phenomenon dealing in transferring information between sources without physical means of communication.
But when you understand that there is a common spiritual bond between all things in the Universe, and that we are all part of a One, Divine Intelligence, no phenomena is unexplainable.
The blank matter within the most basic building blocks of perceivable existence is malleable and moulded by intent. This means that consciousness shapes our reality.
This seems difficult to accept for most and it is quite understandable.
In modern times we are taught from an early age how to think rationally and tangibly. This is a very left brain method of education and has more harmful effects than is given credit for. The left brain deals with logic, details, facts, patterns, practicality, science and math, as the right brain deals with feeling, intuition, symbols, images, risk taking, philosophy and religion.
SCHOOL INDOCTRINATION
With a deliberate push for government controlled educational curriculums, generation after generation of youth are being taught to focus only on the facts, figures and numbers. Repetition is used to train children subconsciously to accept what they are learning. Children aren't rewarded for questioning the validity of the information they receive. They are ridiculed. However, the children who blindly accept the information as true and merely regurgitate the information on command when it is time to take a test, those children go on to become the decision makers in our government, law , medicine, business and every occupation with power and prestige.
THE SUPPRESSION OF THE FEMININE
The most detrimental effect of being pushed away from holistic thinking with the full brain into a strictly left brain thought is what is known as the suppression of the feminine.
Every male and female have both masculine and feminine qualities and this has nothing to do with man or woman. These are represented by the left and right brain, Yin and Yang, black and white, light and dark and most every other duality. Both are vital to our spiritual and physical health
So the intangible parts of our existence such as the emotions are part of the true reality of our consciousness.
If emotions are part of a realm that we cannot experience with our five senses then how is it that we are all aware of our emotions?
What most people believe to be our emotions are not truly the emotion itself. What we are experiencing is the physical manifestation of these emotions. Anger causes disturbance in the psyche which manifests itself in the ego. These manifestations cause the heart rate to increase, body temperature to rise and spawn many other physical traits that signify anger. Just as music from the radio is a physical manifestation of an intangible signal, our experience of emotion is the physical manifestation of an intangible signal as well.
FEAR AND LOVE
It has been shown that our emotions have a vibratory frequence to them. Furthermore, there are only two emotions that humans kind experiences, fear and love. All other emotions branch either directly or indirectly from these two emotions.
Fear has a long frequency vibration to it, while love has a rapid and very high frequency.
To show the vibrations are the very foundations of existence, Hans Jenny developed what is know at Cymatics in the 1940s to show that when vibrations of sound are passed through a form of media there is a set pattern that will follow.
When the frequency increases, the media develops into a more complex pattern.
This is precisely what is happening to our Earth and to humanity.
There are 64 possible codes of amino acids in our DNA structure that are made from four elements, carbon, oxygen, hydrogen and nitrogen.
By any means of logic, we should have all 64 codes activated within our DNA structure yet we presently only have active 20 codes.
"And of these 64 possibilities, it appears that only 20 of these codes are turned on right now for us, the 20 amino acids. There is a switch that turns off and turns on where those coding sites lie and that the switch for that turning off and turning on is what we call emotion and this is the first time that we have ever seen the patterns of emotion directly physically linked to human genetic material.
Well, fear is a long slow wave of emotion so this wave of fear is a long slow wave and touches relatively few sites on this DNA so an individual living in fear is limited to the number of antennae that they have available to them. Whereas an individual living in the pattern of love, this is love in DNA. You can see it is a higher frequency, shorter wavelength; we have many more potential sites for coding along that genetic pattern.
This information, this is amazing, this is the first time we have ever had a hard, visual link between emotions and genetics. "
This is important to understand because another researcher named Vladimir Poponin measured tiny pieces of light called photons inside a vacuum tube. The photons were scattered as expected. A sample of DNA was then entered into the vacuum tube and they measured the photons again. They found that the particles of light aligned themselves along the axis of the DNA. Then as they removed the DNA sample, the photons remained aligned to the same form of the DNA, even though no DNA was present. This is what is known as the phantom DNA experiment. Science has now bridged a very important gap between physical and ethereal, or spiritual.
OUR EMOTIONS DIRECTLY AFFECT THE STRUCTURE OF OUR DNA WHICH DIRECTLY SHAPES THE PHYSICAL WORLD WE EXPERIENCE EVERYDAY.
So the messages left by the Ancients that we have explained here are more than just prophesies about a One World Government or a New World Order. We now understand why the study of the heavenly bodies were so important. The rotation and orbit of all that makes up our universe serves as a clock and that changes and transitions. This helped the Ancients understand that the change of the heavenly bodies were a mirror to the changes of all existence.
AS ABOVE, SO BELOW
18:56
Ron Finkley (?), Department Chairman, Chemistry, University of California, Berkeley, showed that DNA acts as an antennae for cellular op regulation, the primary function they taught us, about what DNA is about. It's a receiver and transmitter of photons, light and phonon sound. For what? For cellular op regulation, meaning that the water molecules, the pyramid power around the DNA spiral energising strands, are taking in the spiritual energy of love vibrations and then sending it out for manifesting, precipitating, in a quantum field, the physical matter of the body.
These are Hertz frequencies of cycles per seconds that the musicians can retune their instruments to play and experiment with .
http://solfeggiofrequencies.net/solfeggio-scale
Why? Again, these are the Creator's Musical Scale, the original Solfeggio, buried for three thousand years in the Bible. So the ancient priests who knew how to levitate the huge stones for the building of the pyramids and the Masonic Knowledge that predated Egypt, the ability to have this information, these frequencies, serve the function of creation, destruction and miracles on behalf of the empowered people who had access to this knowledge.
I say that, because of this metaphor.
This is the difference between the power of our Creator and anything else, particularly evil. That you can go into a pitch black room full of evil, full of darkness, and light a little candle and instantly that darkness flees. But you can't do the opposite. You can't go into a well lit room full of truth and wisdom and righteousness and joy and health and harmony with the Universal Power and you can't take on any amount of darkness and go into that well lit room and have any effect whatsoever.
That is the metaphor which I frequently think of when I think that I AM not empowered. It is the greatest lesson for me and I think for everybody else to know that we are on the winning side and that we'll will win in the end. "
OPEN YOUR EYES, SEE THE TRUTH
As you are watching this, understand that it is not a fight to be fought, it is not a war to be waged, no gun rights have to be exercised, and not a finger has to be lifted. Most people wonder how one person can make a difference. They ask that if all this is so simple, and this information is available, why hasn't someone else conquered their fears and changed the world for everyone else? This is the most difficult and beautiful conundrum to our lives.
YOUR REALITY AFFECTS YOU AND ONLY YOU.
Your curiosity has lead you to this genre of information to serve a very specific purpose in YOUR life.
ARE YOU BEGINNING TO SEE NOW WHY THE WORLD IS AS IT IS? LOOK AROUND YOU AND TELL ME WHAT YOU SEE? WAR, MURDER, FAMINE, DEPRESSON, MATERIALISM, FEAR, ECONOMIC CRISES, HATE, RACISM AD MORE WAR?. THE ILLUMINATI KNOW ALL THIS AND THEY'RE USING THIS KNOWLEDGE AGAINST US TO KEEP US IN LOWER VIBRATIONAL FREQUENCIES, THUS MAKE US MORE EASILY CONTROLLABLE SLAVES.
WAKE THE FU*K UP AND START LOVING EACH OTHER AGAIN.
ARE YOU BEGINNING TO UNDERSTAND NOW WHY ALL THESE GURUS USED PHRASES LIKE "LOVE IS THE KEY" OR "LOVE SOLVES ALL THE PROBLEMS"?
WHEN YOU LIVE IN LOVE YOU ARE ACTUALLY RESONATING IN HIGHER FREQUENCIES AND THAT IS HOW YOU RAISE YOUR CONSCIOUNESS AND ACTIVATE MORE CODES IN YOUR DNA STRUCTURE. FEAR, HATE AND NEGATIVITY ARE THE REASONS WHY WE CURRENTLY HAVE ONLY 20 0F 64POSSIBLE CODES ACTIVATED.
(Excerpt from the movie Intrigue)
"SO WHO IS IN CONTROL?
ARE YOU?
AM I?
THE GUARDS OUTSIDE?
THE WARDEN IN HIS OFFICE?
YEAH?
WHO IS IN CONTROL?
Testing, testing, testing, one, two, three, four, DR. Ethan Powell interviewing Dr Theo Caulder.
Now, this will be a very simple test.
Pass or fail, life or death.
Ready, Juha ? Now, you write on
this paper what l have taken from you.
What have you lost ?
Write it ! Write it !
(Control)
Wrong!
You never had control. You only thought you had it.
An illusion, TabibuJuha !
And what do you control
for sure, huh ?
The volume on your stereo, the air
conditioning in your car ? What else ?
What else!
All right.
Another chance. You were nervous.
Too much pressure. Try again.
What have you lost ?
What did l take ?
Write it. Write it !
(MY FREEDOM)
You're a fool, Juha.
- Ha !
- [ Grunts, Pants ]
Did you think
you were free ?
Where were you going at two o'clock today ?
To the gym, right ?
in the morning,
your wake-up call.
in the middle of the night when you wake
up sweating, with your heart pounding.
What is it that has you all tied up as you are,
tied up in little knots ?
Is it ambition ?
Yeah.
You're no mystery
to me, boy.
l used to be you.
Okay. One last chance.
You think l won't do it ?
[ Chuckles ] What's one psychiatrist
less to the world ?
I'm already deep in the pit.
So what can they do to me ?
Last try.
Get it right.
What have you lost?
What did l take from you?
Write it.
(MY ILLUSIONS)
Yeah.
Congratulations.
You're a student,
after all.
And you've lost nothing
but your illusions...
and a little bit
of skin.
"I want to finish this."
"Finish what?"
"Telling you what I know."
"What makes you think that what you know is any different from what other people know?"
"I had different teachers."
*************************************************************************
Transcript from the movie INSTINCT - thanks to:
http://www.script-o-rama.com/movie_scripts/i/instinct-script-transcript-anthony-hopkins.html
Ancient Knowledge Pt.2 Fibonacci Sequence, Golden Ratio, Phi in Nature, DNA, Fingerprint of God
http://www.youtube.com/watch?v=eYDwWbDhCEg&feature=results_video&playnext=1&list=PL3459AE4966208942
This is to follow at some point!