++++++++++++++++++++++++++++++++++++++++++++++++++++++++++++++++++++++++++++++++++++++++++++++++++++++++++
Thanks for looking and please feel free to email me with any question, most emails will be answered within
an hour or so..
Paypal GIFT/Personal payment is preferred method of payment & price includes CONUS Shipping. for international shipping, please contact
me for detail.
I personally make each strap with TLC and each and every strap is unique in its own way (no 2 straps are alike)..
NEW PRICE
---------
B1 24x24: $120
B2 24x24: $120
B3 24x24: $90
B4 24x24: $80
B5 24x24: $110
B6 24x24: $65
A1 26x26: $125
A2 26x26: $95
A3 26x26: $120
A4 26x26: $95
A6 26x26: $115
B1: 24x24 129x80 1 wide floating keeper Bright Blue Special tanning gator .. with golden thread work
B2: 24x24 126x84 1 wide floating keeper .. Light Ash brown gator with load of character..
B3: 24x24 143x82 1 wide floating keeper. Vintage Coach NUBUCK finish...
B4: 24x24 120x76 1 wide floating keeper.. Vintage Baseball Glove
B5: 24x24 132x76 1 wide floating keeper.. Stone wash jean finish gator strap
B6: 24x24 123x73 1 wide floating keeper.. White Shark with big ridges
A1. Ultra Unique Gator Belly Strap.. Exceptional color. Sew-in buckle with 1 fixed and 1 floating keeper
26x26 77x133 $200
A2. WWII Ammo pouch strap .. Soft tan color with sewn in buckle (Pre-V style) with 1 fixed and 1 floating keeper
Off white thread
26x26 80x145 $150 via paypal Gift .. including CONUS Shipping
A3. Ultra Unique Horned Gator .. with 26mm screw in buckle. 1 fixed and 1 floating keeper
26x26 78x128 $200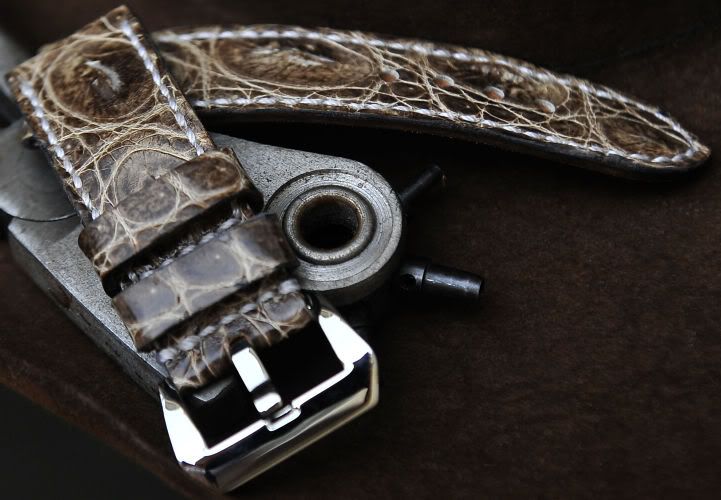 A4. WWII Ammo pouch strap .. Soft tan color with sewn in buckle (Pre-V style) with 1 fixed and 1 floating keeper
Neutral wax thread
26x26 85x135 $150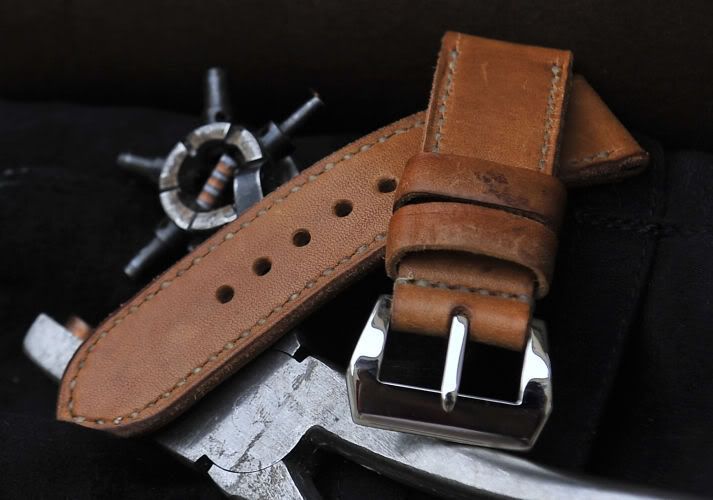 A6. SanDave special tanning finish white gator.. 26x26 78x130 1 fixed and 1 floating keeper $200