A stock system saved my life! Ok, that's a bit much (!) but hopefully my story will inspire others to not panic if you're ever in a bind. Or if you're a "newbie" hopefully I will share a few things that will inspire you to give change a try and see how it works for you.
I was in a "hair emergency" situation…I was starting a new job in less than a week, waited way too long to order a new custom piece, and at the worst possible time had my fragile old piece (which was from a well-known pricey salon) develop a rip in the lace right in the front and shed a bunch of hair, making it essentially unwearable. PANIC! I had never ordered hair online but the only thing I could think of was to try ordering a stock system and do my best to make it work. So it was 2am on a Wed night and from various sources I ordered: a stock blond (color 22R) system, a styrofoam head and base, t-pins, 2 kinds of scissors, a razor comb, and hair color chemicals and tools (like a color application brush, mixing bottle, etc.). I had everything shipped "next day delivery" so I could get started on Friday.
On Friday after all the packages arrived, here's the steps I followed:
Made a template, like you would make for ordering a custom unit, and set this aside for later.
Cut my hair with Wahl clippers like I usually do every 2 weeks: #4 attachment (1/2") all around, then #3 attachment (3/8") over the ears and along the kneckline, then used the "ear attachments" over the ears to take that down even shorter.
Pinned the stock unit to the styro head without cutting off the extra lace (it's a good idea to leave the extra lace on until the very end, so when you pin the piece to the styro head, you're pinning through lace that you'll cut off later and it won't matter if the pins make a little hole in the lace).
Started cutting! This part took several hours because I was being very cautions, and periodically took the piece off the styro head and put it on my head to see how it was looking. Eventually it got to where I could envision it blending in with my hair with some fine tuning so I stopped.
Colored the blond unit down to a color 6A (which is a dark ash blond/light ash brown, depending on who you ask). I have always had my pieces made with blond highlights in the front, so to achieve this look as closely as possible I started the color process in the back and worked my way towards the front. The color product I was using needed to process for 25 minutes, and in the very front/temple area I left the hair out until the last 5 minutes and even then just put the color through with a wide tooth comb, leaving some pieces out entirely.
Then I cut the base down to the size of my template and attached to my head. Personally, I use glue all around the perimeter and no tape. Then I think I spent a couple more hours fine tuning the cut and blending it into my hair.
One of the struggles I was having was that the base was shaped differently than my head so it had "buckling" in various places around the sides and back. To solve this, I took it back off and basically cut out some little v-shaped sections around the edge in areas where it naturally wanted to buckle (created makeshift pleats, allowing the base to conform better to my head). I then re-attached and it was much better.
Then I got some much needed sleep. Sat morning, my hair looked like a poofy mess and I thought "what have I done?!!" In my experience, it is always necessary to shampoo, condition, style and let it dry at least 2-3 times before things settle in and I start looking normal, so I reminded my self of that. But I also realized the density was too high in certain places, mostly in the temple area. So I decided to try reducing the density as best I could. I literally took some tweezers and started plucking out a few hairs at a time until it looked better. This step made a HUGE difference in the way things looked. Another round of shampoo, some Back2Natural to tone down the highlights I left in the front, copious amounts of leave-in conditioner, styling gel, and some time in front of the mirror and I was able to achieve the look in these pics:
For my next step, I planned to order a custom piece and had found Eric's site during my research. I had previously been a "lurker" on an older forum and learned a tremendous amount from reading all the posts, so was glad to find that Eric had started a new site and forum. In the meantime I decided to order a stock from Eric and again went with a 22R French lace base. This one was much more red than the original stock so I had to color it down more so it's less of my usual blond highlighted look, but it was AMAZING how well it conformed to my head with no buckling anywhere (honestly it fits like a custom…I guess I lucked out and had a head that was shaped just right for this one!). Here are the before-after pics: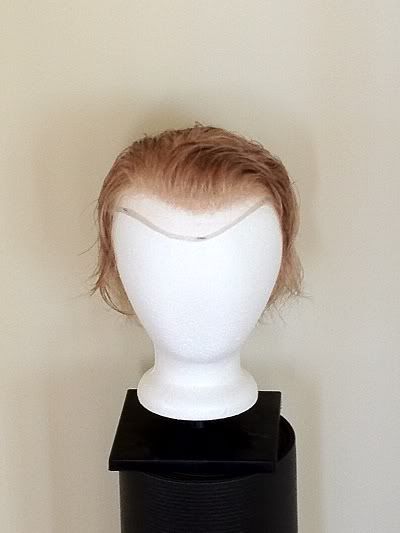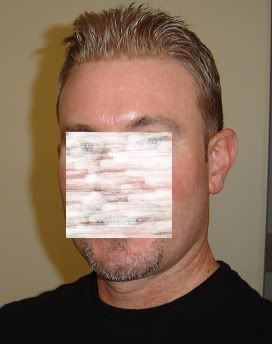 I'm in the process of a custom order from Eric, but in the meantime ordered another stock 22R so I have a spare to play around with. Coming from someone who used to pay around $1500+ for a custom piece (yikes!)…I can honestly say that the quality of these stocks is at least as good, or even better. With a little customization, you can get a great result without spending a ton of money.
So with all that said….don't be afraid to experiment and try something new! I thought I would make a mess out of this, but learned that by doing some research and then just jumping in and giving things a try I amazed myself at what I was able to accomplish.
One thing that I'm still struggling with a little is coloring…I used a "color block" product on the base to prevent color from staining the base, but think I use too much because I always end up with spots where the "roots"(hair near the base) don't take color. It's not a huge problem but an area where I will keep learning by experimenting more. For now I just think of it as highlights and lowlights
I read this forum regularly, so if anyone has questions feel free to post and I'll do my best to help out.