1 Sam 2:3 Talk no more so exceeding proudly;
let not arrogancy come out
of your mouth
:
for the LORD is a God of knowledge
, and
by him actions
are weighed
.
Jas 4:6 But he giveth more grace. Wherefore he saith,
God resisteth the
proud
,
but giveth grace unto the humble
.
Tomas,
Just
devotedly
own
GOD
's
doctrines
instead of
HIS
and adhered too
much upon your level of Greek language by being more knowledgeable
than the King James Bible translators.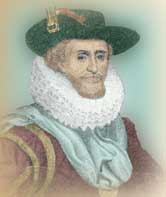 It was made clear that James wanted no biased notes affixed to the translation,
as in the Geneva Bible. Rule #6 stated: "
No Marginal Notes at all to be affixed
,
but only for the explanation of the Hebrew or Greek Words
." Also, James was
looking for a single translation that the whole nation could rely on "To be
read in the whole Church," as he phrased it.
He decreed that special pains be "taken for an uniform translation, which should
be done by the best learned men in both Universities, then reviewed by the Bishops,
presented to the Privy Council, lastly ratified by the Royal authority...."
A Colossal Achievement
Consider how preposterous it was to have
a team of elite scholars writing for a largely
illiterate public
. We can only stand back in amazement at their achievement. Think how
ludicrous the translation mandate was. It called for a product commissioned to reinforce
a clear-cut royal political agenda, to be done by elite scholarly committees, reviewed
by a self-serving bureaucracy, with ultimate approval reserved to an absolutist monarch.
The final product was intended primarily for public and popular consumption. It was to
be read orally -- intended more to be heard in public than to be read in private.
How many works of literary genius do you recall that were done by committee? How many
premier scholars are you aware of who can write for the ear? Not to mention for a context
intended to evoke a spirit of worship!
How optimistic would you have been that a team of about 50 could handle the technical and
linguistic challenges while at the same time producing a work with a cadence, rhythm,
imagery, and structure that would resonate so deeply with popular consciousness that it
shaped a civilization and culture in a unique way? However, history shows that they were
successful in creating a translation that not only met the needs of their generation, but
also succeeded in influencing the lives of generations to come.