can only be accomplished if you shift your hips at the beginning of the DS. I'm still not convinced that this is a beneficial move. Look at Ben Crane, a typical hip shifter, at the top of BS and 6 frames later. You can see that he has barley turned his hips or shoulders, but his hips have shifted significantly. This is what enables him to pretty much keep his hands and arms in place ala the master move:
Now look at Bubba Watson. He has rotated his hips a lot 6 frames into the DS, and since his torso is connected to his hips, the shoulders turn and the hands/arms drop a lot ... not what you'd call a master move: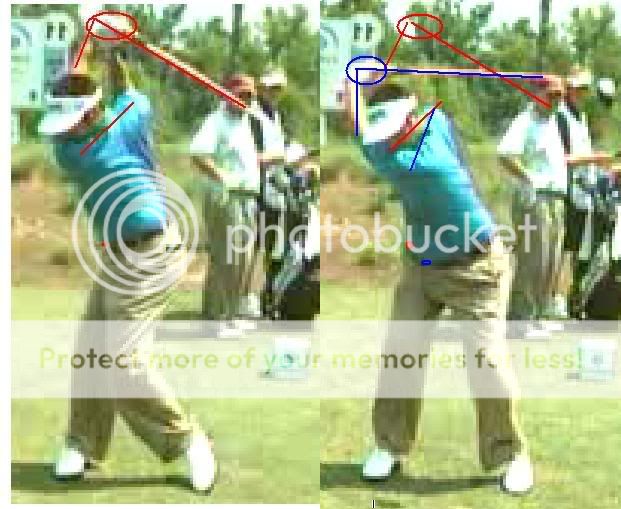 I think that Bubba generates a lot more power and speed using primarily a hip turn rather than a hip shift. Look at how far Bubba's lead knee has moved compared to Crane's (Crane is very typical of the tour pro's.) And if the camera angle for Bubba was more straight-on, you could see how much more dramatic this move is. You've got to start the DS with the lead knee to initiate the hip turn, and by doing this you cannot keep your shoulder/arms/hands in place at the beginning of the DS. And yes, I've reversed Bubba to be a right hand player for the purposes of this comparison.