with lots of what they say. The whole "firing of the hips" thing has caused lotsa problems for golfers over the decades. (You hear the TV guys comment alot about it every weekend too, therefore it must be a good thing.) SOMAX analysis is proof of this in that they say the "use of the hips" is what generates "massive force which is then transmitted to the club via the trunk and arms."
They mention centrifugal force, but fail to mention anything about lag, and retaining of the angle as a common denominator in all powerful swings. You can fire your hips all you want but if you don't follow the "lead" with the "lag" you will not hit it out of your shadow. Consciously trying to "fire the hips" or as they say "use the hips" is bad advice IMO.
To be fair, we don't know how they teach their golfers to "use their hips", but I can tell you "how they are used" in an efficient swing. And you don't need that gadget they sell to learn it. You set up with your weight on the edge of your trail foot ( right Rem? ) and have the feel that it is running up the entire inside of your trail leg. You pinch your knees toward each other slightly as well. When you turn, you maintain this focus throughout the back swing, turning against the brace of the trail leg all the way to the top of the backswing. This will create torque or as Bertholy says "muscle antagonism". Then, BEFORE YOU MOVE YOUR SHOULDERS OR ARMS AT ALL, YOU MOVE YOUR LEAD KNEE BACK TOWARD THE TARGET to it's original address position. If you have maintained the trail leg brace as describe above, and perform this action correctly, you will be "using your hips" correctly without having to think about it. And when viewed from the rear you will be able to see "both cheeks" in the impact zone: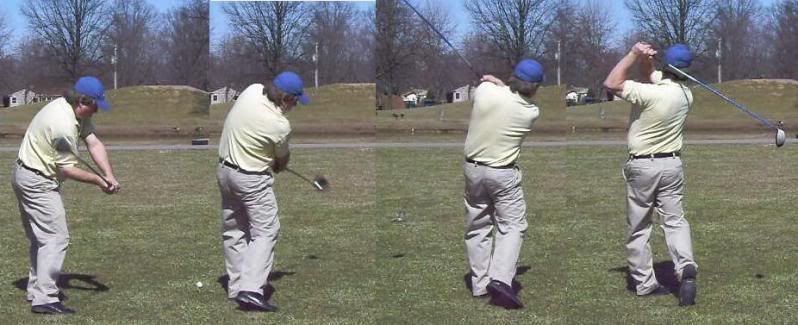 I think one of the best practical descriptions on how to use your hips can be found in Tommy Armour's book "How Top Play Best Golf all the Time". He says just make your trail knee go toward the target, just do that and the hips will take care of themselves. A good description coming at it form a little different angle.