When a "swing system dude" says this or that, and then points to pros that do this or that, it of course lends credibility to the whole this or that. In our community, NG did/does this with regards to Moe Norman. S & T does it with their poster boys, and Trahan with DJ etc. Sometimes when you examine what they are teaching vs what is actually happening in real swings, it is different. So the models are invalid. So where does that leave the DVD purchaser? In one of the Youtube videos by Nick Clearwater he says that the straightening of the trail leg is something every tour player does, including Nicklaus and Tiger - well that just aint so: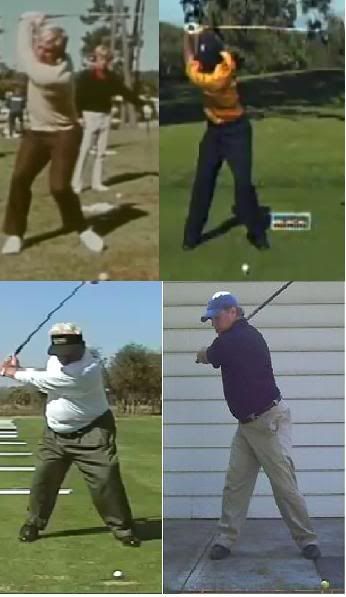 But DVD's still have to get sold, and people still want to improve, so it is packaged up in such a way that people will buy it. Swing method developers that want to sell lots of product must have something that separates them from the others, so that it can be "packaged" Most people will never exert the effort or do enough reps to have any system take up "permanent residence" though. Consequently there is always a "swing du jour" or the Baskin Robbins "flavor of the month" swing, and the need for packaging.
But any fine swing will exhibit certain qualities or traits no matter what method is employed to "get there". The best example of this is to look at any fine swing at impact - pretty much all look the same. So, you could spend your time perfecting a good impact position, AND THEN whatever swing system you use will have that ideal position. What most swing methods do though is approach it from the opposite end. They operate on the faulty assumption that their method will help the golfer achieve these absolutes. Our forum is full of people including yours truly who found that isn't the case. A person can swing S & T, NG, IMA, CG, GGA Symple Swing, and still not acheive a pro quality impact position. Just because someone uses "the Moe Swing", doesn't mean he will swing like Moe.
But if you take time to develop the absolutes first - then pretty much any "method" will work - but your swing may not look like the what the method teaches!
Kevin
"A Blueprint For Golf Excellence - Building A Swing You'll Never Forget"
Never quit til you have a swing you'll never forget!