Peter - "You accomplish this by moving your pelvis closer to the ball with an associated straightening of your lead leg."
Just want to make sure...what you mean by the above statement is that my rounded spine is happening because my pelvis is moving closer to the ball and my lead lead is straightening?
I have looked at lotsa of videos of my swing spanning the last several years and this curved aspect is something that seems to be there. Here is a shot from a driver swing about two years ago: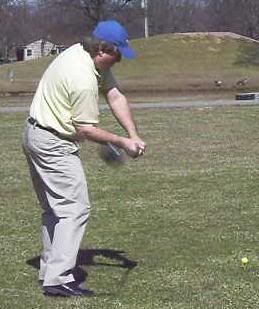 So if I am to change this...it will mean quite a big "Home improvement effort".
Looking like this might be a good winter project! Eliminating potential back problems is a big enough reason, besides that what other benefits would be gained from improving to a fixed spine angle throughout the swing?
Never quit til you have a swing you'll never forget!