for generating speed is full of holes and holds no water. At first you said it wasn't a "fair" comparison because I picked younger guys for the long knockers and older guys for the short knockers. So I posted up a 45 year old and a 50+ year old who both were older and longer than the short knockers.
I won't review it all again, so I guess what I am saying is you don't know what you are talking about. Sometimes I think you say stuff and just expect people to accept it because you have been golfing for 40 years and been a teaching professional for 20+ years.
Take this space for the elbow thing space thing for example. It was a bit of a "back door" - it shows an upright swing with him standing close to the ball. There are other players who stand just as close to the ball that have more bend, and some that have less bend. You said in
another post
that
"I have noticed that those standing farther away have often a straighter trail arm at impact vs. those who stand closer."
"
The short knockers as Jerry observed, are more upright in their swings - they stand closer to the ball. The long knockers stand further from the ball. Whose arms are straighter?
I'm just saying.....
About whipped this horse all we can. There are very distinct differences between the swings of short knockers vs those of long knockers....they are plain as day. Take advantage of the info or not. As I have improved my speed, my swing has been taking on more of those characteristics seen in long knocker swings. I have taken advantage of the info.
I am 53 years old, not really all that fit, though I am working on it. ( BMI of 29! ). I swing a five year old 44.5" driver that weighs 380 grams, and learned my swing with a system that has been around for 50 years. Recently, I have added speed (and accuracy) to this swing by specifically "training for speed" using and over load / under load training routine and the Speed Chain. I am a regular Joe...anybody can do the same, if they want. Here's a visual chronology of the changes. Top left is the youngest me,, then about two years ago, bottom right is present day: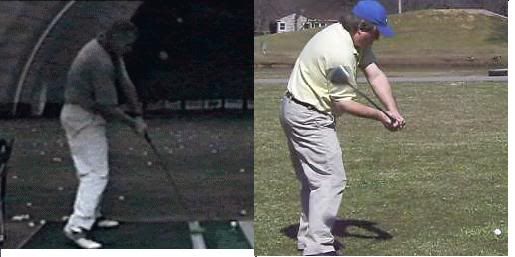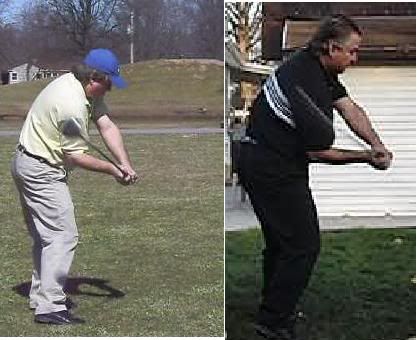 Have nice day, and have the last word.
Kevin
Never quit til you have a swing you'll never forget!