I am getting ready to do a first start on a new engine. It is a NOS 428 Service block with a new Lunati 10503 (428CJ replica) cam and a NOS Autolite distributor. So all new or NOS components were used.
According to Steve Christ's book "How to rebuild your Big Block Ford" on page 142 he says to rotate the crank to TDC for #1 piston, and insert the distributor. He goes on to say "With the distributor installed, you should be able to rotate the housing about 25 degrees clockwise and 15 degrees counterclockwise. This will ensure enough room to rotate the distributor to set ignition timing. Set the timing as soon as you can after you start the engine. Turn the distributor clockwise to advance timing and countercloskwise to retard it".
Here is a photo of my engine with the distributor installed exactly as Steve Christ recommended, with the caran at TDC and the rotor pointing at the #1 spark plug spot. I am using the vacuum advance as a point of reference in all of the photos. I was able to advance it 25 degrees clockwise, and 15 degrees counterclockwise with the distributor in this position:
[img]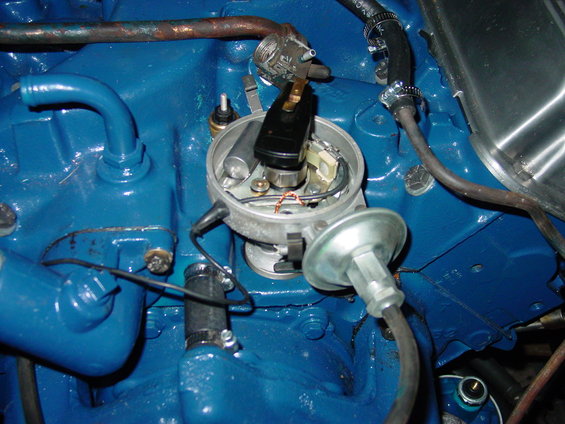 [/img]
My question is, how come you see so many FE engines installed with the distributor in the position as it is in the photos below? Granted this distibutor has the advance timing set and mine does not, but it seems that these distributors seem overadvanced to begin with, and they would have had to advance the distributor almost the full 25 degrees clockwise to get to that position. Could the distributor gear be advanced 1 tooth too far on the on the cam gear? Or is this just normal wear of the components?
[img]

[/img]
[img]

[/img]
Also I thought I read a post here a few years ago about a method of setting the initial timing with a timing light without starting the engine, just by hooking up the timing light, setting the crank to 10 degrees BTDC, turning the ignition key to on, then just advancing the distributor clockwise until the timing light went on. Has anyone heard of this?
thanks,
RDave