I can't wait either!!!!! I just love weddings and so glad I will be there in my heart, mind, and soul.
You deserve nothing but the best and it looks like you are getting just that.
A wonderful man and your health. 29 pounds!!!!! That's fabulous!!!! Now you will have to alter your dress, which is a GOOD thing.
Quit smoking on March 31, 2006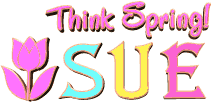 "Success is not final, failure is not fatal; it is courage to continue that counts." ... W. Churchill ...
"You cannot lift a thousand pounds all at once. Yet you can lift one pound a thousand times." ... Ralph Marston
"One half of knowing what you want is knowing what you must give up before you get it." ~Sidney Howard