and A LOT of though and discussion has gone toward making the forum accommodate long time users as best as possible in a manner that was not too drastically different from what they were used to. Keep in mind that this is an initial opening and not all the forum features have been rolled out yet. To accommodate some of the old timers we have added or are adding the following:
1. a preview pane. hover your cursor over a thread title and you'll automatically see a preview of the first post. in that way you can decide whether you want to read the thread or not.
2. view unread. if a section has a dark balloon to it's left, it mean there are posts you haven't read. click on the dark blue balloon and the system will show you only those threads that have posts you have not yet read.
3. quick-links (not yet uploaded) - the discussion forums will include a series of quick-link buttons to allow users to navigate to different sections or resource directly from the discussion forum, just like they currently do here.
4. New Post notification. Just like here, you can choose to be notified when someone replies to a thread you are interested in. in addition you can set that notification to show you the content of the post so you can decide whether you want to go to the forum and reply.
5. RSS feeds - every post, section or the entire forum can be set to feed to an RSS news reader of your choice, which you can see in your computer readers or in your mobile devices.
In addition to those things, we have a ton of new features which old members have been requesting for as long as I can remember. for example, the new forum is set to:
1. bump posts that re replied to back to the top (no more losing an interesting discussion to the depths of the forum.
2. a search engine that works
3. a rich text editor that works on every major browser (not just IE)
4. The ability to use both html and BBC code (not just html like on n54)
5. The ability to stick posts
6. an internal messaging system that notifies recipients via e-mail of new PM's (which means no more posts asking for so-and-so to contact you)
7. the ability to report problematic posts and PM's to the staff.
8. hidden IP and e-mails (the troll can e-mail you from the forum but he can't see your info unless you give it to him)
9. the ability to filter out folks you don't want contacting you via PM and/or e-mail (you can block anyone but the forum staff).
10. the ability to share an interesting thread - you can click on share directly from the thread and send it to anyone you like; and
11. most importantly a way to organize and rehost the years of MANY super interesting threads that have been hidden away in the mirror in a way that is actually usable.
We have no illusion that we will please everyone, but at the end of the day, we think that the new software has a lot more positive things to offer than negative ones, especially when compare to network54. We hope that rather than be upset about the change, that long time members would at least give the new site a chance, try to learn what the new software and format have to offer, and hopefully enjoy all the new things SCWF has to offer and the new direction we are taking the site in. Still if anything about the site could be improved on, we have set up a feedback and suggestions thread in the new SCWF specifically for people to report these kinds of things.
_______________________________________________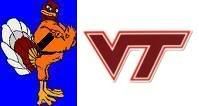 GO HOKIES