and work from there. At close range you may not see much difference, but stretch her legs some, and it can be a different story. I have folks ask me all of the time why I waste my time weight sorting my hunting ammo. Since I really couldn't answer in ten words or less, a couple of years ago, I wrote a story about why, and put it on my blog . You might find it interesting, or not. LOL.
http://varmintair.typepad.com/varmintairs_blog/2009/03/the-mental-component-of-shooting-and-hunting-and-why-i-weigh-my-pellets-.html
Here is an extreme example of what weight sorting can bring to the party. Years ago, I picked some Beeman Ram Jets on sale. They were marked "blemished". No big deal, how bad can they be? Some bent skirts maybe. I looked at them, and really couldn't see anything wrong. I decided to shoot some out of my .177 Discovery, which was very accurate with several other pellets. This was the result at 15 yards indoors.
Not so hot, to say the least. The single pellet hole was my aim point.
[IMG]
[/IMG]
Dug out my scale, and weighed some. There was several grains difference in weight, between pellets within that one tin, and we're talking about a pellet that was supposed to weigh, as I recall, around 8.5/9 grains. I decided to see how they would shoot, if weight sorted into groups separated by .1 grain.
Now we're talking.
[IMG]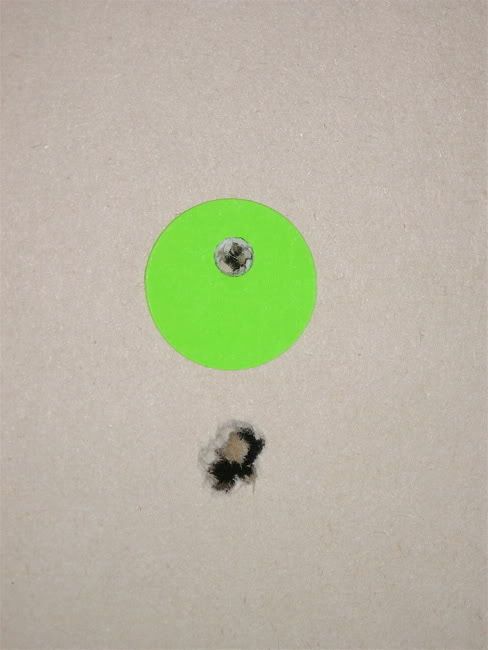 [/IMG]
I went on to kill a lot of ground squirrels with the weight sorted pellets, all the way to 60 yards. But unsorted, these things were pretty much useless for my purpose.