Got to thinking about barrel crowns. Know the idea is to have a smooth even release of the pellet, so gas doesn't spurt out unevenly at the moment of pellet release. Dead flat would work, but is prone to damage, so we usually use a kind of edge-radius (and a lot of variations on angles and recesses).
But isn't that just half of it?
Seems like we assume the base of the pellet will also be nice and even. Sometimes it isn't. If the pellet base is ragged...the release will be uneven. IF the pellet starts out crooked, will exit crooked, and that would give uneven gas release (as well as lots of other problems).
FAT PELLETS:
Sometimes the pellet is a bit too fat for the bore. Get definate tails on the engravements of the lands. Guess that wouldn't matter if they were even...but they aren't. Gives a pellet a kind of uneven scalloped base (and perhaps one more reason for a pellet to shoot poorly).
[IMG]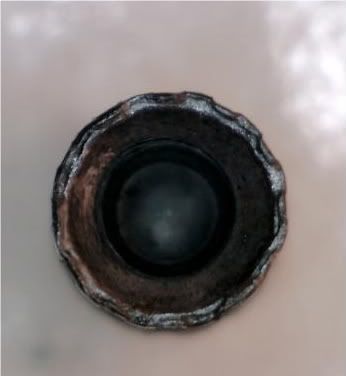 [/IMG]
[IMG]
[/IMG]
[IMG]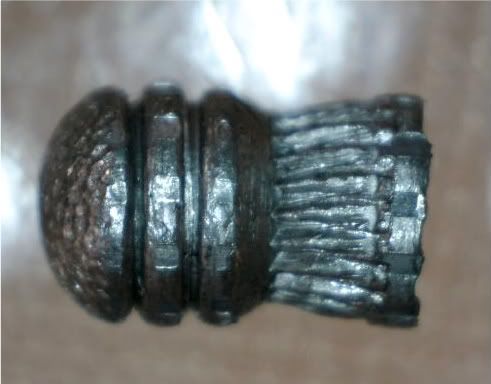 [/IMG]
Smaller diameter pellet...much less finning...shoots very well.
[IMG]
[/IMG]
UNEVEN SEATING:
Got a suspsion about this one. Inside the base, seems like the bolt probe rub-mark is not on center. If it was pushed in crooked, then the reason for ther right side having deeper rifling engravment than the left might be due to the probe.
[IMG]
[/IMG]
Difference in rifling isn't obvious on this one, but the inside mark of an off center probe is:
[IMG]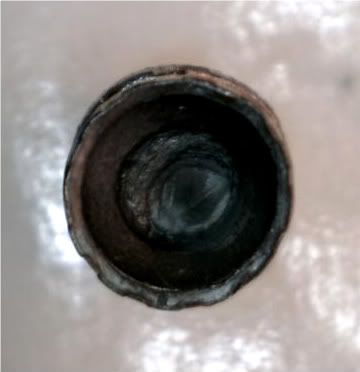 [/IMG]
ODD BORES:
This pellet hardly looks engraved at all. But a look at the odd bore it came out of (from and old Crtosman 2000) explains that. Early atempt at a pologon bore?
[IMG]
[/IMG]
[IMG]
[/IMG]
But a fatter pellet still shows those fins, so even that odd shaped bore isn't immune.
[IMG]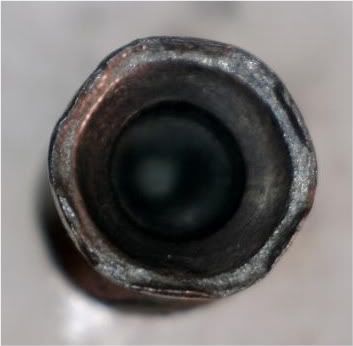 [/IMG]
TRANSFER PORTS:
Have to seat the pellet, then push it back out from the muzzle. Suspect running backwards over the burr makes it more distinced, but it takes a hell of a burr to cut this kind of bite out of a pellet.
[IMG]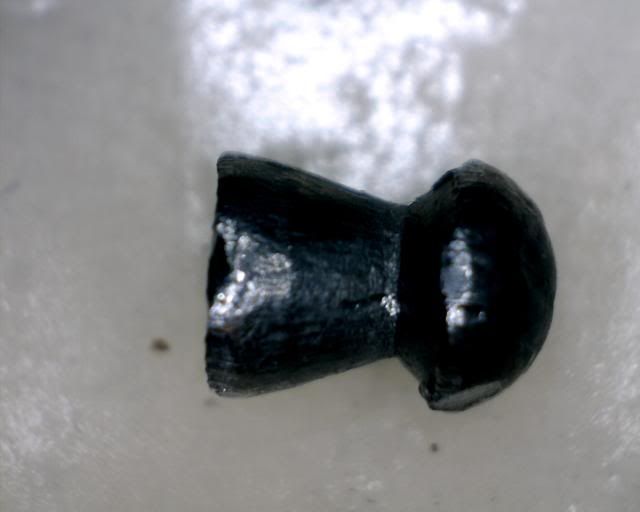 [/IMG]
PRRSSURE:
The harder you hit a pellet in the butt, the more likely that hollow base is to expand. Helps to have a soft pellet. Could be that those slighly out of round bases are not all that important after all.
[IMG]
[/IMG]
At high pressure, they tend to get a tiny bit shorter.
[IMG]
[/IMG]