Am ordering a new .177 AA400 or AA200...have to decide which...to run at 12 foot pounds. New gun gives a kind of cascade effect....can retune other guns to higher or lower speeds in order for the new toy to have its own useful energy range.
Which is pretty neat for me...get to retune and readjust several same caliber guns whenever a new one comes to join the group.
Which means the .177 Pneuma that had been running at lower speeds is free to be tuned up to higher speeds.
[IMG]

[/IMG]
Took it down and adjusted the striker tension to get it running right at 2900psi.
Had plugged all the valve ports except two...which limits the air use pretty well. On a .22, would probably leave 3 or 4 open. On a .25, might leave them all open.
[IMG]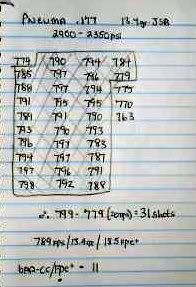 [/IMG]
Quick test showed 8.4gr JSB's moving at 960fps (about as fast as I'd want to push anything) and 10.6 CPH's moving at 865fps.
Re filled, resighted, and tried my luck at 40yads this AM (early..before the wind acted up).
[IMG]
[/IMG]
Could pull another valve port plug and make it past 20 foot pounds, but the shot count/efficiency would get sucky and I'd tend to over drive pellets less than 10g.