It took some years (maybe as many as 9) to get the current "champ" of single 12gr. co2 cartidege, I'm a whole lot of things,but patient and pesistant is amoung them.
Basically, a tradtional brass tubed / brass barreled "Benjamin/Sheridan" co2 rifle (likely the last of the co2 "breed") factory strangled down to low power
Previous post on co2/single 12gr. running rifles:
http://www.network54.com/Forum/79537/message/1492282136/4th+test+%28CP1+co2+%26quot%3BMatchMaster%26quot%3B+pistol%29
Curtrent champ of the 12gr./energy equaton.
Old Crosman 2000 12gr CO2 rife, that runs off a single 12gr.

83F ambinat temp., shot in 10 shot groups.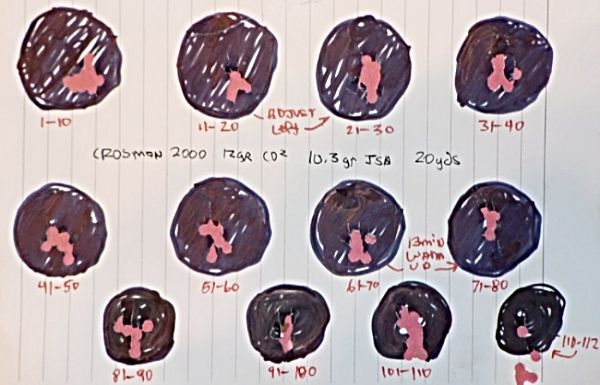 Yeah...I really didn't expect to get over 80 shots....so the bottom row of smaller targets were added on once I got to 80 and seemed like it wanted to keep on going.
So from the 20 yard target (reguardless of the chronograph) it certainly looks like 100-109 shots were "good enough". Lets just call it 104 shots.
Whiich works out to 10.3gr. at 409 fps (average inside of 3%), for 3.82foot pounds per shot...or 3.67X104 = 397 foot pounds of energy per 12gr. (may bre as much as 112 shots for 403 foot pounds per 12gre.)
So....maybe I sold the lowly 12gr. co2 cartridfe short 400 foot pounds is a lot of energy for 12gr. of co2 gas to produce, so perhaps I've under-estimated the potenti of the mass produced, simpl, disposible, cheap 12gr.
QUESTION: What good is a sub 4 fpe rifle?
1. From the above example, it can certainly test your ability to hold "peep" sights.
2. Can keep your need for practice shooting sadisfied without complications (hyst stuff a tin of pellets i your left Jeeens pocket and a couple of 12gr. in yourright jeans' pocket,and wahder off where you care to).
3. Evidently there is more than 300 foot pounds to be hadper 12gr. ...more like 370-404 foot pounds if everything adjusted/running right.