You see quite a few S20's that combine the sporter-style grip/frame with the target-style sight, like this: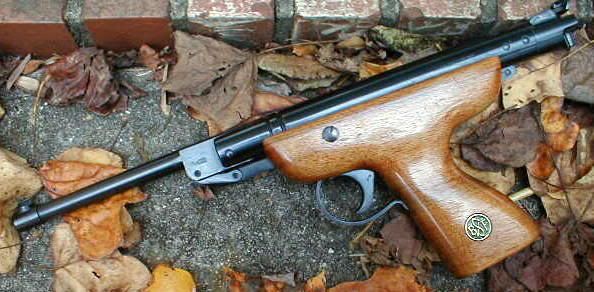 This was often called the "S20M" or "S20 Match," while the final version with the thumbrest grip was the "Custom Match." I kinda like this version, as the thumbrest grip was definitely NOT designed for MY thumb...
Note how the adjustable rear sight is mounted in an extension "plug" at the rear of the cylinder. The S20 sporter had a simple sight in a transverse dovetail cut directly into the top of the receiver, and a thin flat cap at the rear of the receiver tube. The S20 shared its basic action with a junior rifle, so the trigger is an odd "bullpup" design, located much farther forward than the rifle trigger. The rear sight location affects how the trigger adjustment works.
On the normal sporter version, the trigger adjuster screw is in the rear breech face, facing forward, and acts directly on the sear engagement. On an S20 with the match sight, the adjuster is a long pointy job underneath the rear of the receiver, and works at an odd angle against a separate rod that contacts the sear. You can see this thing just above the wood in this pic: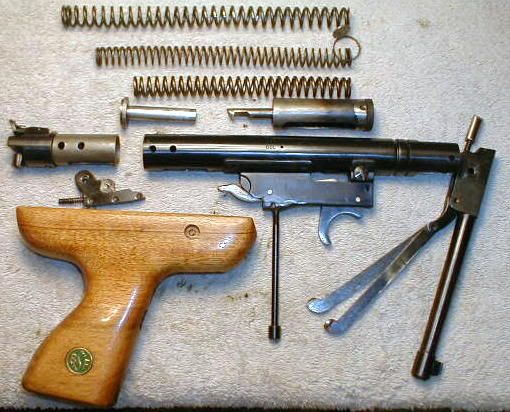 Anyway...I have found it quite difficult to get a good crisp trigger setting with this arrangement. To me the basic sporter is better in this regard.
(FWIW, the three mainsprings in the pic, from bottom to top, are for the S20, an old Webley, and a P1. The S20's is quite short, but uses much heavier wire than the others. Beware the BSF is rather tricky to dismantle and re-assemble.)