I have had this rifle for several years 11/2005. It was my FIRST rifle so I am spoiled no doubt. This rifle shot a 5 shot group at 70yds that measured .93ctc so I was not expecting an improvement in accuracy. I have over 6500rds through this rifle so to say I know this rifle is an understatement.
[IMG]
[/IMG]
[IMG]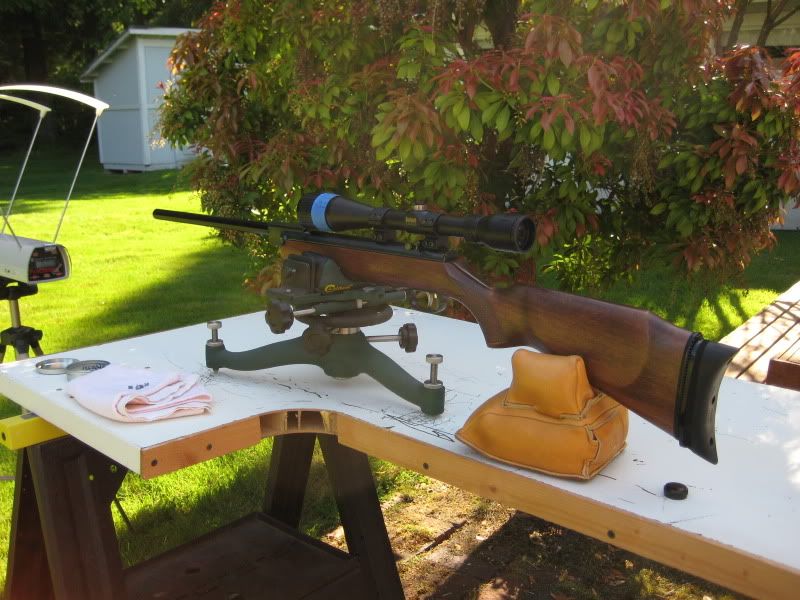 [/IMG]
R7 was tuned by rob with maccari spring and guide. He replaced the breach and piston seal and smoothed out the internals of the receiver. Come to find out that the 4 pistons seals I ordered from beeman where R9 seals (reason for the tune, I could not diagnose why my R7 was shooting slower and slower).very angry at beeman to say the least.
The tune was his full tune;
http://www.springguntunes.com/TuningOptions.htm
The rifle cocked very smooth before. Was very accurate before. Had almost no recoil before (maccari inards). Had a great trigger before as well. Basically, I wanted him to fix the issue that I could not. Keep in mind that the R7 has been questioned by many if its even worth tuningits that smooth and good as is.
[IMG]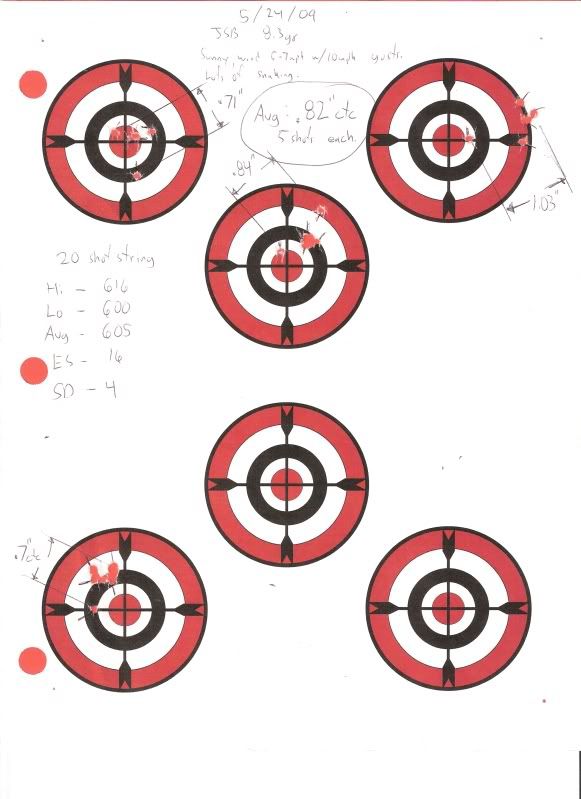 [/IMG]
Wind was about 5-7mph with 10mpg gusts with plenty of L to R snaking. I did not wait for the wind to stay consistent. I doped the wind and shot. wind from left to right means pellet will go right and up. Right to left means pellet goes left and down etc. Each target was 5 shots at 50yds.
Anyways, I have only about 100rds through this rifle before this shoot. The SD I am sure will improve. The trigger is a bit better than I remember it. Cocking it is a tad smoother. The firing cycle is equal if not a hair better.
Again, this is a rifle that is very hard to improve upon and Rob did just that.
Verdict, I would and will do business with rob again and would refer him to anyone looking to get there rifle tuned.
He, in my mind sets the standard for keeping one informed as well. He told me when he rcvd the rifle, what his diagnosis was, when he ordered parts, rcvd them, installed them and when the rifle was shipped. Turn around time was about 3 weeks from when rifle was shipped to when it was rcvd (this will vary due to his work load).
5 out of 5 stars for rob Hawkins. I can NOT think of one single compliant other than why my trigger does not feel like my IZZY 46M trigger ;?) (I would put that trigger in all of my rifles if it was possible).
Thanks Rob. The pleasure was all mine doing business with you and I will recommend you to others in the future with out hesitation.
greg in WA