I've been overdosing on multi-pump pneumatics for the last couple of years, and I just wanted to acknowledge one of the most enjoyable in my stable, the Puma Rifles Innova. Puma makes several models which copy the excellent Japanese Sharp pneumatic rifles which are now, sadly, no longer in production.
[IMG]
[/IMG]
There it is. Man, that's so ugly, it's almost . . . elegant?
Well, kind of, actually. This particular rifle cost me all of $85 a couple years ago -- and that included shipping to my door -- so it gets kudos for being affordable. It's lightweight, weighing an all-day-easy 4 lbs, 10 oz (2.1 kg). And it's nimble and "pointy", since it's only 35 and 3/4 inches long (
by comparison, a Daisy Red Ryder is 36 inches overall
). It's also pretty quiet, even with a lot of pumps.
So, it's cheap, it's lightweight, it's tiny and quiet. Is it a kids' gun? Not really.
See, the Innova has an adult-scaled stock, with a length of pull of 14 inches. It won't win any awards for Most Beautiful Stock, and it is completely hollow, but it does have a fitted rubber buttpad and a pistol grip cap, both with white line spacers. Both the pistol grip and pump handle portions of the stock are nice and full, for adult hands.
[IMG]
[/IMG]
And if the stock doesn't put it squarely in the older-teen-to-adult camp, the Innova has a
big
pump tube, about 0.94 inches in OD. That's roughly the same dimensions as the tube on a Benjamin 392/7, give or take a few thousandths. (
In fact, when fully open, the Innova and my 392 LE have identical geometry, when looking at the orientation of the pump lever to the tube
) Add a long stroke, and you get a lot of swept air, building pressure quickly. And that takes some muscle. In fact, anything over 4 pumps is a bit of a workout.
And all that air will really move the pellets downrange. With 10 pumps, the Innova will generate 13 fpe with a 7.4 grain pellet.
By comparison, my Remington Airmaster 77 will generate 7.5 fpe with the same pellet and 10 pumps; a Crosman 760 can hit 6 fpe (with pellets).
(
It's not a fair comparison, but that Daisy Red Ryder, even though it's a half inch longer than the Innova, will only hit 1.4 foot-pounds -- with 5.1 grain BBs...
)
[IMG]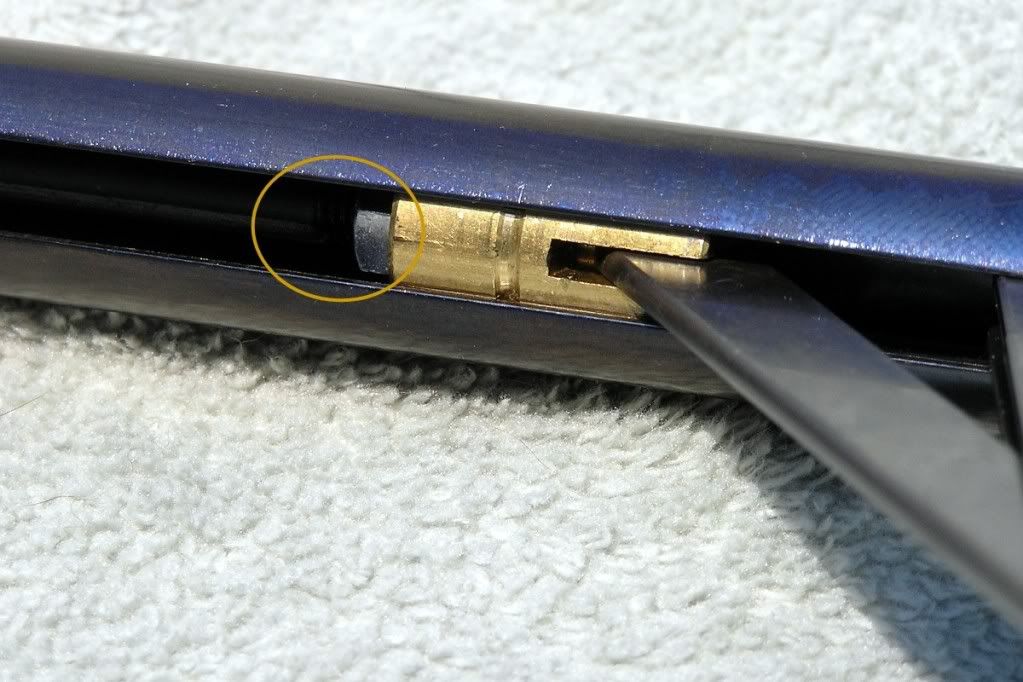 [/IMG]
One other thing I like: the piston stroke is adjustable. Finally!
It's not easy to see in the picture above (I circled it in orange for you), but the pump piston rod is threaded into the brass pivot and locked with a hex nut. This allows you (me...) to make small adjustments to the length of the piston. (
in my case, I had to, as it came to me slightly too long, and was hard to close!
)
The trigger directly dumps the valve similar to the way the old Crosman 1300 Medalist and similarly valved pistols and rifles used to work. The difference is that with my old Crosmans, the more you pump, the harder the trigger is to pull. With my Innova, that isn't the case. Whether it's holding one pump, or ten, the trigger on this Puma feels the same. It's single stage, and only has adjustment for pre-travel, but it is light and smooth and works great.
[IMG]
[/IMG]
The bolt is spring loaded and presses forward from the very back of the receiver. The bolt release (indicated by the orange arrow, above), when pressed, lets the bolt snap back (
... strongly enough to jiggle the elevation adjusting screw on the rear sight, actually. I hold the bolt in with my thumb and ease it back after tripping the release
). For easier loading, there is a "scoop" molded in the breech, and a little rounded shelf, or trough, to set the pellet in, before rolling it into the loading channel. I'm not explaining it well, but let me just say, from my experience, this is easier to load than any of my other pump rifles (unless they use clips, like the Daisy 853C and 953 ... love me those clips!).
[IMG]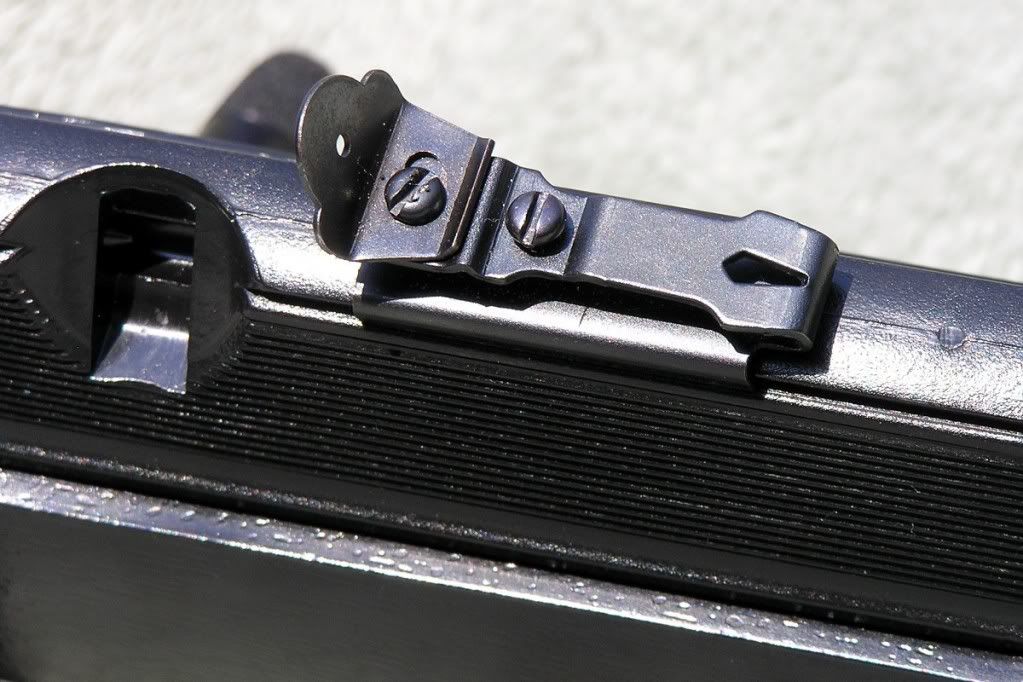 [/IMG]
In this close-up on the breech, you can just see the conical tip of the bolt probe. The "scoop" in the side of the receiver is easy to see, but this illustrates the "trough" a little better. In this pic, it looks like a pellet would roll right out of that, but trust me, they don't.
Also in this photo, you can see the rear sight... Sigh...
I'm not too impressed with this sight, it is hard to adjust with any precision (for windage), and the elevation adjustment is very easily disturbed. It's simple, though, and it works: with 4 pumps, rested, and using the factory peep sights, I can regularly put 10 pellets (
The Peak domes
) in a 1/2" group at 20 meters.
The front sight is a hooded post, and is molded from the plastic that makes up the endplug of the pump tube, barrel, and shroud. It's serviceable, and the hood is the right scale for the peep aperture (for once...).
This "endplug" assembly molding also includes a threaded muzzle (
clockwise threads, and I think it's 1/2" x 20, don't trust me too much on that though
) for adding a muzzle brake. I was actually pretty excited about this feature before I took delivery and saw how delightfully short the Puma is; after that, I never was tempted to add any thing to the muzzle.
Of all my pumpers at the moment, this one has been getting the most attention this Summer. Probably because it is so simple; I mean, I don't have scope to adjust, I don't have to be extra careful transporting it (in fact, I'm not very careful with it at all...), it shoots great, and it's just fun.
And I said it was cheap, right? Yeah, that helps, too.