Older one....likethe two-piece stock style? And when you say "filled it up", to what pressure?
Evidently yours has the adjustments (transfer port screw and striker spring) and isn't "tamper proof" (thankfully).
Turn the transfer port restction screw out another turn and a half.
You really don't need to have it in the stock to adjust it...can still shoot over a chronograph with it stockless...and it speeds up the process considerably.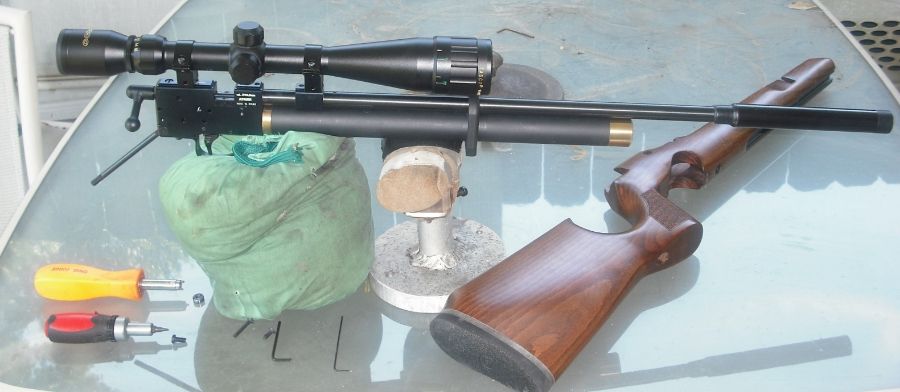 Don't want it shooting it's fastest at the top of the fill and declining in speed, so you'll have to shoot 10-15 shots to see what direction the velocity change is going: High speed declining: reduce the striker spring tension, refill, and try again. Low speed and climbing: increase the striker spring tesion, refill, and try again.
Ideal would be for it to end up a little slow at top pressure, slowly climb, peaking at something like shot 20-25.
If you're happy with the speed, then refill and start screwing in the transfer port restriction until you notice a decline in velcocity....then back it back out a fraction of a turn. If you want it a little lower speed, keep turning the restriction screw in until you get there.
One of the two I have (an old .22 AA s200) had that funky industrail type fitting...looks more at home at a car garage then an airgun...but it still works, so I just leave it alone.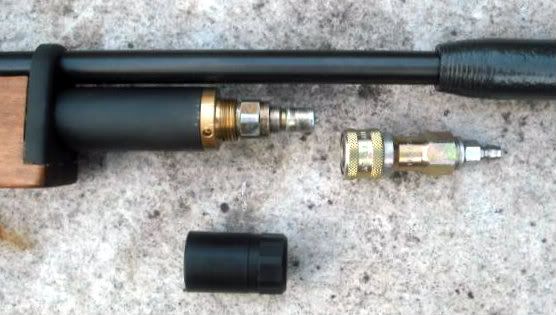 Found my two don't really "like" high speeds....they get real wastful of air and tend towards short shot counts when pushed past certain speeds/energy. Thinks tend to take a dive with the .177 version somewhere about 15 foot pounds (but make delightful 12 foot pound rifles) and the .22 gets air-hoggish past 18 foot pounds.