Don't think the MK1 is much different than the MK II in internal respects. Could put a set of MK1I grips on it and adapt a MK 11 shoud to the same barrel if it makes you think it mattered.
By set screwing the bushing, as you've done, would be able to make tightening eaiser and still allow for rotating the barrel is needed. Also lets the concept of barrel tensioning (which is what the original desight of not locking the barrel in place allowed) by the shroud to work.
I really haven't had any barrel bushing spin issues with the MK I...so long as I kept my thumb clamped down the back end of the bushing, it would tighten up past the point of spinning as I tighted the barrel nut.
I did try rotating the barrel while critically squiting down the barrel trying to find the spot where the bor was really centered to the end cap exit hole. Not too surprizing, there were placed were were places were it was a little off center...enough to clip? doubt it, but figured getting it dead ceter really avoided that possiblity best.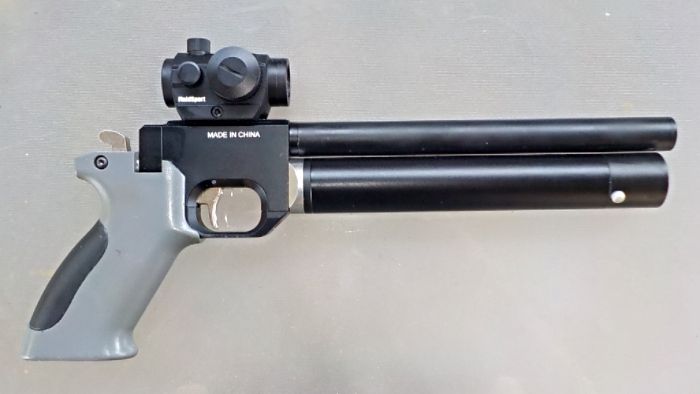 (its a longer distance from the end of the barrel and the end of the shorud-cap in a MK1 Samel length shrouds, but the MK 1 barrel ends aboutr 1" shorter inside that shroud...A MK II would have a shorter "jump" to end cap, so maybe less critical in centering. At least in my .22, the shroud cap's hole only runs about .238-9"..which ain't that much slcak for a .221-.222" pellet.)
The regulator was fussy on mine. Started off barely being able to tell it was regulated. But the more I shot it, the more it started actiing as you'd expect a regulator to act. Rather than take it apart, I just kept shooting...and it kept getting better and better.
Something you should look at in most of the published strings (not cut off sections for-show) show the very first one or two shots are "off" even on well broken in regs. Not just my strings, but most of the ones posted.
I gave up trying to fix that, and just "dump in the dirt" two shots before going on to antyhing serious.
OK..an example, which shows I still have some ways to go. In my case, am trading speed/energy for shot count rather have +40 11 foot pound shots).
The "DIRT SHOTS" are just expected to be odd. In my case, they are usually low. In other published strings, they seem to be higher than normal.
MAY be (in my case) somthing to do with the multiple hammer-puse effect of pump-filling...pehaps 30-35 little taps with an air hammer" than one "push" of a tank fill?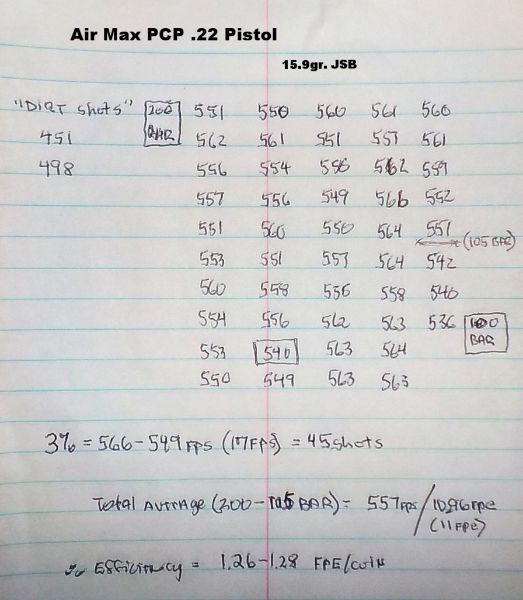 Without doing a ding-dang-thing other than shooting the "carp" out of it nearly every day for a month, no changins in spring tension/transfer port restriction, regulator, or anything else (just shooting it in for a WHOLE LOT LONGER than I ever expected to have to)...comes out like this: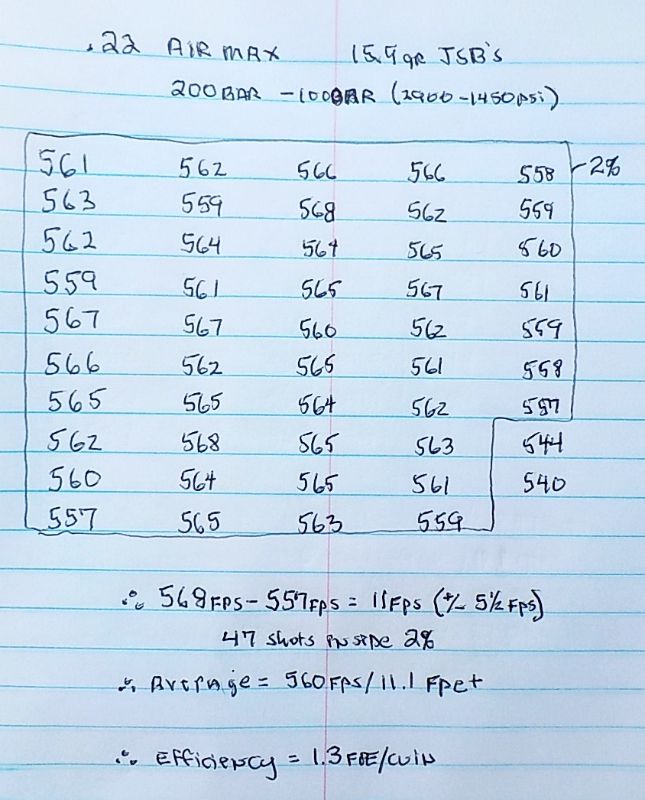 So eventually, this one stopped doing the "off shots" after filling that I use to just dump in the dirt, the shot strihg got both longer and tighter (more shots in 2%R than I got in 3%), and the energy increased very-very slightly.
Evendenly, it if you aren't wiling to dissasemble and smooth out the regulator manually, it will self-smooth with enough use (at least in one example).
Go though this whole post because I do find these pistols to be a particually good value...a really regulated, really accurate, small, light weight, PCP pistol for less than $300?
Too good to be true?
Nope...may be too much for the snobbish to believe a cheap Chinese regulated pistol can manage it....but thats about preconceptions rather than facts.
EDIT: about red dots.
Tried bigger...tried smaller. Decided I just was not willing to give up "click" adjustments for screw (which anything small has). So that simple small red dot gets the go-ahead.