These inexpensive little guns can shoot pretty well.
Basic 4 MOA red dot.
20 yards.
5-shot groups.
15.9gr. JSB's
(Yeah...the "green bugger" grips became "gray bugger" grips (which seems to be what happenes if you either leaver a bugger along long enough, or spray paint the offending plastic right off the bat).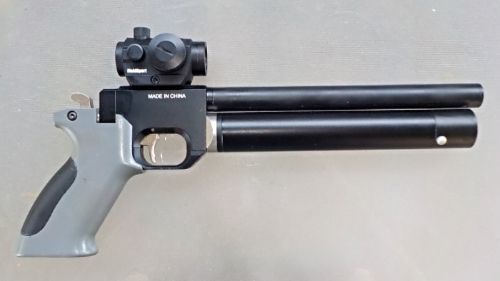 Might be a "trick" here worth trying (and also why the hand drawn targets). Make the target just large enough to center the red dot, and you aren't dealing in the size of the read dot, but the CENTERING of that read dot (would have to try a 10MOA red dot in a 12MOA circle to test that, but it makes sense to me).
Ended up a bit high for 20yards...which was OK by me for what I was doing.
That's not "match grade". Will stay well under a dime (even if you pile all 20 shots onto one target).
MKI or MK II...it's the same guts, and they are certainly willing pistols.