Selling due to housing construction in my rural area. No longer able to shoot outside.
Asking $488 Shipped to 48 contiguous states.
Contact email is LUP792@AOL.COM
Selling my Walther Rotek.
Only used in 1 Hunter Class Match game.
Has a 230 BAR extended fill hose, but recommend a metal adapter rated higher.
Hatsan .177 Air Stripper (never used).
2 Hammerli clips and some pellets to break in the barrel.
Ships in original box with paperwork.
Never Registered, can look for original receipt, if you want it.
Stippling slightly scuffed from bipod use.
Walther Rotek air rifle Precharged pneumatic (PCP) Bolt-action 8-shot rotary clip (single-action only) Rifled steel Lothar Walther barrel with 1/2" UNF threads Vibration-reduction system 2-stage adjustable match trigger 11mm dovetail (does not come with open sights) Minelli beech stock Checkered forearm and pistol grip Dual raised cheekpieces Ventilated rubber recoil pad Manual safety Built-in air pressure gauge (manometer) 200cc air reservoir 232 bar/3,365 psi max fill pressure Made in Germany.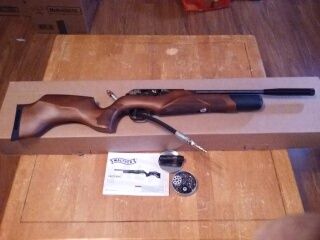 Just hit the little circle.