In the Hawaiian shirt?
by Rachel (no login)


No idea who he is. He might have just been some dude sitting at the bar. He looks like such a downer! The little girl on the other side of Phyllis is the daughter of another of our friends who was there. After the show when we were sitting around, we didn't see her anywhere and then we found her - she was standing right next to Andrea while she was schmoozing. LOL.

As for earlier pics, I don't mind sharing this one - it's the least offensive of that era.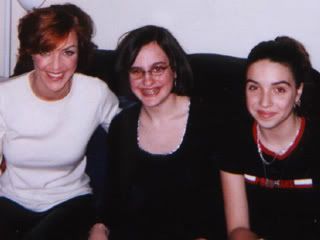 Andrea's hair was chopped super short in preparation for "Cabaret," I'm wearing braces...it's a mess. I think Alexis had braces then too and that's why she is smiling with her mouth closed. That was the Belle dressing room at the Lunt-Fontanne during Andrea's final weekend in "BATB," which makes me 16 there, I think. AWKWARD PHASE! My hair! Sigh.

As for Prin's boyfriend, he loved every minute of the show. After every song, he would say, "OMG, that was so amazing!" or something like that. He loved it.


Rachel





Posted on Jul 15, 2008, 6:57 AM
from IP address 12.111.30.89

Respond to this message

Return to Index

Responses