Update on X-Ray posters: Please Help!
by Doc Nickel

To cut right to the chase, the owner of the Print Shop who is helping me do the cool X-Ray paintball gun posters, apparently suffered a house fire over the weekend- burned to the ground, lost everything except the clothes they were wearing and what was in the cars.

No injuries, thankfully, everybody got out except some fish.

I have no idea what he has, if any, for insurance, I don't know where he's staying, anything else. I haven't yet spoken with him, he is, as you can imagine, rather busy at the moment. I don't know any details- if/when I find out anything, I'll keep you updated.

His business, the print shop, is fine. Completely seperate building, many miles away. The posters are in the works, no images lost, no problems, just that, as you can expect, this will move the timeframe up a bit.

Now, I have some furniture that I'll give him if he needs it, but I have something better in mind: Down below, you'll see a rough idea of what the posters will look like. They're 14" by 17" or so, possibly a touch bigger, and will be printed on heavy, glossy stock. The pic below is just a general idea- it's what I gave the printer to get an idea of what I had in mind. The guy's a graphics designer, and pretty good, so he will be making the final layout. But, this pic is the basic idea: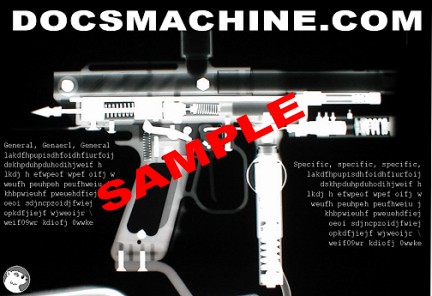 We have four images to start with: An E-Bladed 'Cocker, an Ironman Intimidator, an X-Mag, and an '03 Shocker.

I know most of you want one or more of them, so here's what I want to do: If you preorder and prepay, starting right now, I'll donate $1.00 from each poster sold, to the printer so that he can buy clothes for the kids, furniture, food, appliances, whatever he needs.

We were supposed to have them done and delivered in just under two weeks, before this happened. Now I figure closer to four, with even that estimate open and variable. I'll keep donating that dollar each right up 'til I have them in and start shipping.

Now I'm not asking for an extra dollar, I'll give that out of my cut. The guy's helped me out quite a bit, both with print jobs and other info over the years, and I understand how devastating a total loss to fire can be. All I'm asking is that you guys buy the posters, at the moment sight-unseen, and for that matter, trusting me that I won't bag the cash and run off to Jamaica to buy Muai-thais with it.


If you want to help, and get a cool poster for doing so, here's the info:

Posters are $9.95 each, and 10% off if you order ten or more (mix-and-match any combo or ten of all the same image, doesn't matter.) Shipping will be US Priority Mail, and $4.75 (includes the shipping tube) plus $0.90 for Delivery Confirmation, anywhere within the United States. For Canada, figure closer to $5.50 USD, and I can't do delivery confirmation. Outside the US and Canada, drop me a line and we can work out the details. No bulk pricing yet, please wait 'til I have them in hand.

Place your order now, and the moment they arrive I'll start tube'n them up and shipping them out as fast as I can. Money will be donated to the print guy as often as convenient, at least weekly.

Easiest way is PayPal- my PP address is ordering@docsmachine.com
Please add PayPal's 0.03% transaction fee to the total, and make sure your correct return mailing address is on the PayPal form. Please also put "Poster" or "X-rays" or something similar in the form header, so I can keep track.

You're also welcome to prepay with a check or MO, sent in to:
Doc's Machine
Po Box 1166
Kenai, Alaska, 99611

Again, please make sure you also enclose a note with your correct return mailing address, and mention what the payment is for.

Can't do COD because I have nothing to mail yet.


Second, you can help even more by spreading the word. Crosspost to other forums, tell the guys at the field, ask your local doctor if a paintgun X-ray poster is right for you. Link back to this post, and I'll make any updates here in the Guild. I ordered a pile of posters and this guy's going to need all the help he can get, so let's do what we can!

Thanks guys!

Doc.



Posted on Aug 2, 2004, 11:03 PM

Respond to this message

Goto Forum Home

Responses
Order sent. Renegade_Azzy, Aug 3, 2004

just word it different. Anonymous, Aug 3, 2004

exactly.... DK1, Aug 3, 2004

frankly. leo, Aug 4, 2004

a solution for problem that wasn't. (nt). Shaun Nelson, Aug 4, 2004

Its not against the policies to have fixed service charges.... DeeEight, Aug 4, 2004
Heh. Mike, Aug 5, 2004

Ok, that was really funny... CRySyS, Aug 4, 2004

3" cardboard mailing tube.... Doc Nickel, Aug 3, 2004

Other guns n' X-rays:. Doc Nickel, Aug 3, 2004

more of more guns. Ed, Aug 3, 2004

Actually, the electros are coolest.... Doc Nickel, Aug 3, 2004

I would, but..... Doc Nickel, Aug 4, 2004

Yep, would love an AKA. Davinci, Aug 4, 2004
Re: AKA Guns. mlk3454, Aug 4, 2004

Just posted on the A50G.net forums.. A5FireFighter, Aug 5, 2004

Waiting also. NrKissed, Oct 26, 2004