Nonexistent pictures...
by

I, too, am curious to hear why the gun might not have been able to exist.


Here's a photo of the raw body (stood up on a loose feedneck as a sort of pedestal):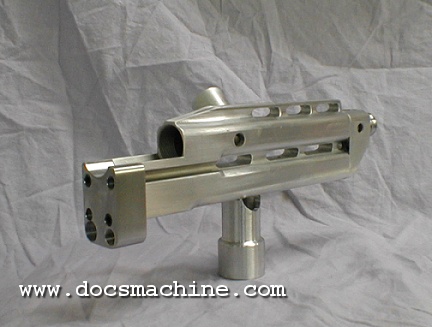 The milling is, I think, fairly nice, and was pretty fancy for the time ('99-to-'01-ish) but is of course nothing particularly special today. One of the main tricks, though, is the front block; The body is a pre-2000, that originally still had the small valve chamber and small front block bolt.

Of course, the 2K-up mod bumped the original 3/8"-24 front block bolt to a larger 9/16"-24, which along with additional internal drilling, added quite a bit of valve chamber volume, which was necessary to run lower pressure, higher-flow valves such as the Tornado.

I wanted to try something different, so I came up with the outer-edge bolts in a custom block. The block sealed to the body with an O-ring, and the resulting internal volume was, as I recall, something like half again larger than even a 2K-up body.

Anyway, I eventually annoed it (leaving the front block polished- I think Curt may have asked for that) and fitted it with some nice parts for the time. Here's how it looked when I shipped it off: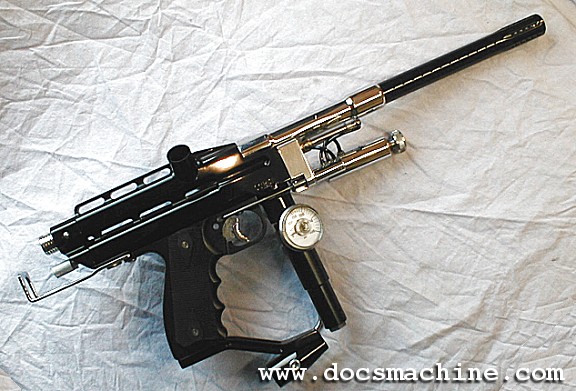 You can't quite tell, but I drilled holes in the trigger plate behind the trigger shoe (this was a couple of years before AKA started selling triggers with "lightening" holes.) The rest of the obvious stuff is a first-gen Palmer's QuikRam (still my fave, and I was disappointed when Palmer's discontinued that style) an original-style "Jackhammer" LPR, a nickled or chromed 3-way of whose make I can't recall, a 14" Boomstick and a vertical Stabilizer.

The drop-forward is one of mine, fitted with some stainless line up to the reg. Internally, it's a Tornado valve, carefully sprung, going through a nickeled Lightning bolt with stock pull-pin.

Other little tricks- note the vertical ASA is milled through so the front block can be removed as a complete unit, without having to undo the 3-way linkage, and also note how the Stab adjusting screw was so far out (I seem to recall it ran right at 160 psi) that I made a "tourney lock" ring for it.

And, although I somehow never noticed it, note how the Jackhammer LPR is crooked. I know Curt pointed it out to me, but I can't recall whether it was a bent nipple or I managed to somwhoe tap the hole crooked.

It's still one of the best 'Cockers I've ever assembled, or at least one of my favorites since it's extremely trick, yet still understated. (IE, not too much chrome, no five-color splash/sponge/fade anno, etc.)

I've always wanted to find another one of those grip frames, which I'm told, but was never able to confirm, was an early Bob Long product.

And I would be interested to see it again, and perhaps get some better photos of it. I rarely see my creations again after they leave here, and it's always interesting to see how they've held up- or in some cases, have been abused.


Doc.



Posted on Jul 20, 2012, 6:02 PM

Respond to this message

Goto Forum Home

Responses
it thinks, there for it is.... , Jul 20, 2012

try some vasoline on the 3 way. eisch, Jul 20, 2012

I remember it fondly. Curt, Jul 21, 2012

.. and one more thing. Curt, Jul 21, 2012

Found that frame... Curt, Jul 25, 2012