I remember it fondly
by Curt

first off, it is the base cocker that was used for this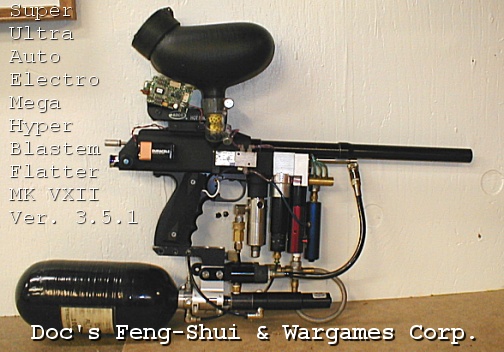 (note the signature gripframe) a really neat project as I recall it would shoot any paint inside an air-sheath cushion that formed a teardrop projectile of super-dense air around the paintball in flight. Incredibly accurate and still legal. Too bad it was impractical to carry onto the field.

On that gripframe, I don't know for sure because I've never seen another one, but that was put on their by Bob Long's shop as a 'favor' (along with some other tuning) after I did his defiant board. He told me it was one of his products but shrug I love it and have never seen another one for sale or on the field.

I did notice the countersunk screws and even recall Doc mentioning the special tool he had created to do it, classes up the design considerably.

The LPR was indeed crooked and at first I thought it was tapped that way but it turned out not to be the block or the nipple but the reg itself.

Also note how the back-block integrates with the milling (which it didn't in that silvered-pic, Doc milled that later).

There were quite a few advancements in that gun that were new or un-though-of at the time that made it a super low-pressure (as a result, not a goal, it was very efficient) and critically consistent. I would say accurate, but that's a can of worms, lets stick with "consistent"

I have another pic of it around here but its a low-rez clumsy-cropped pic..


I used it in many games and it always turned heads.

-Curt



Posted on Jul 21, 2012, 6:53 AM

Respond to this message

Goto Forum Home

Responses
.. and one more thing. Curt, Jul 21, 2012