Just a little relaxation...
by

Two or three years ago, a customer sent me a box of... well, junk. I seem to recall it was stuff he didn't need anymore, or perhaps he was moving and it needed to go away, but he didn't want to trash it. Something like that.

Anyway, the upshot is he sent a fairly large box to me, which turned out to contain the usual debris of someone who has been playing- and tinkering- for some time. Some out-of-hydro tanks and loose pinvalves, some used macroline and miscellaneous used fittings, some goggle visors, some pods, and so forth.

Not necessarily "junk", but not really anything particularly valuable, either. I've found uses for some of it, of course.


The gems of the lot, however, were two mostly-dismantled Tippmann 68 Carbines, one with a few upgrades, and both showing signs of having been repaired several times by someone clearly trying to chase leaks. Lots of ruined O-rings, big wads of teflon tape where no tape should be, lots of scratches around boltholes showing multiple removals and installations, etc.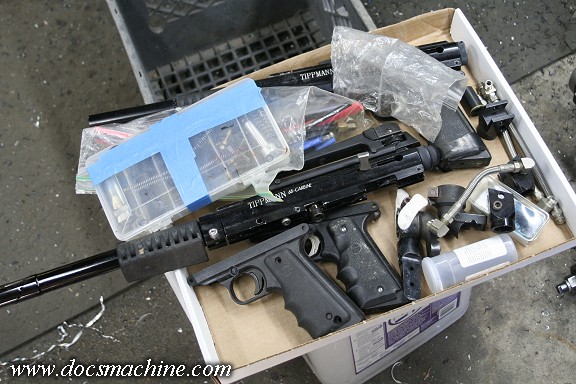 One bag held mostly screws and bolts, one held hoses and macrolines, the taped-up box held more screws, trigger springs, leftover roll pins, extra safeties, hammers and power tubes, you name it.

I uncovered the box (again) as I was shifting other boxes while I was trying to straighten up and organize one of my storage areas. I've always been a fan of the Carbine, they're nice, simple markers, and quite reliable. We used to use 'em as rentals, and rarely had any problem with 'em.

Now, I don't necessarily need a Carbine- I already have one, plus an A5 and a Model 98- but as I was idly poking through the box, it struck me that neither one really needed any work. Nothing appeared stripped, worn or broken, just disassembled, dirty and jumbled up.

I needed a break from cleaning anyway, so I laid most of the bits out on the workbench and started sorting things out. There were multiples of several things- like three vertical adapters, three grip frames, a fourth- loose- trigger, an extra bolt, and so on, but a quick glance showed that there was nothing missing. I had two feed necks, two hammers, two power tubes...

So yeah. Working mostly on automatic, I dismantled what needed to be dismantled, scrubbed the major components, checked O-rings, and mixed-and-matched for about two or three hours, and wound up with this: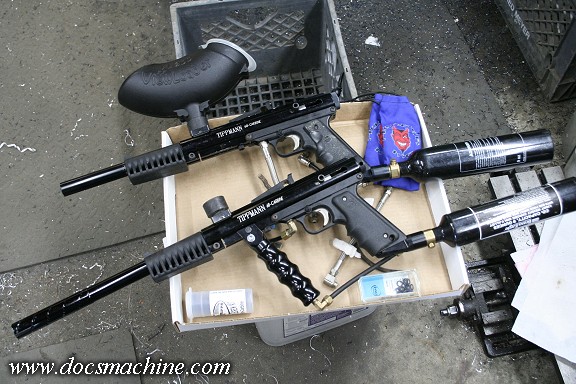 The only parts I supplied were the loader and one tank, one braided hose, and the only "repair" I had to do was to recut the taper to one of the valve-retention fittings, which was just 30 seconds on the lathe.

Both have their share of wear-and-tear, but work perfectly. I left off all the aftermarket parts, like the RVA, lightened hammer and AR-15 'carry handle' rear sight, and the only reason I put on the vertical and foregrip was, hey, I had 'em.


And hey, with a nice, warm sunny day, the doors open, some good music, and a project I can basically do on autopilot- and wind up with two good usable markers when I'm done?

That's my version of relaxing on the beach.


Doc.



Posted on Jul 29, 2012, 2:57 AM

Respond to this message

Goto Forum Home

Responses
Gimmie a few days, and I've got a similar story..... Hans, Jul 29, 2012

And mine's completely different.. Murph, Jul 29, 2012
And mine is something else as well.... , Jul 30, 2012