If you can't fix it with a hammer, it's an electrical problem...
by

Today's project was an old LED Angel, that arrived as a box of mismatched parts. Obligatory "before" pic: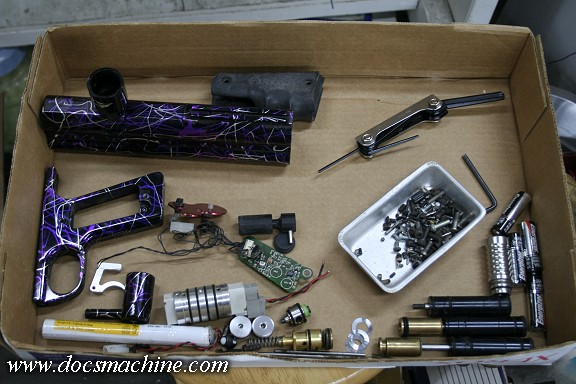 (And that's after sorting and cleaning and scrounging for missing bits.
)

Pretty straightforward rebuild, not much more than cleaning and reassembling, while fixing a few minor things along the way. Easy-peasy.

Got 'er assembled and running- and was stunned to see the battery, which likely hasn't seen a charger in about a decade- not only still had juice, but appears to take and hold a fair charge. It's an old nicad pack, so I'm rather surprised. But anyway, up and running, threw an air system on for testing, came up with a few minor issues: Trigger switch needed replacing (the switch would 'click', and then you'd have to keep pulling the trigger more to make it actually fire- felt very inconsistent) light LPR leak, etc. Again, the usual stuff.

But, and this is the important part, it fired just fine. Good, reliable and consistent- velocity wise, I was using a Stabilizer.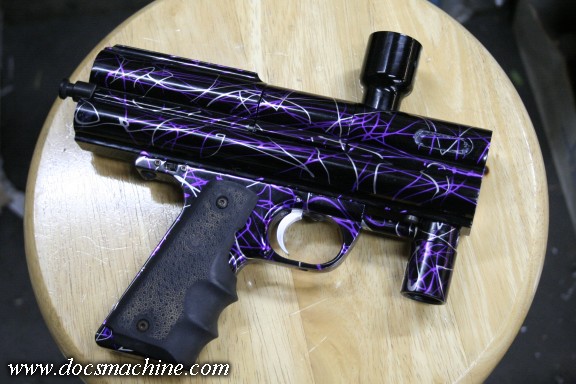 I'd also tried it with a standard ASA, but this gun was getting one of the original Miniregs on the original style fine-thread 'crackpipe' ASA, plus one of my Dynabolt installs. So I broke 'er back down- took the grip frame off, soldered on a new microswitch, rebuilt the reg (had to mix-and-match parts- somebody's been in there before) fitted the bolt, replaced a couple of LPR springs, etc.

The Dynabolt requires a minor mill cut to the bolt-pin slot, so I pulled the ram too while I was at it.

Afterward, I carefully cleaned everything and reassembled it, taking care to wipe off old lube and apply fresh, to get everything set properly, etc.

And it wouldn't fire. The hammer would cycle, but no air was fired.

WTF? It was working fine a minute ago... Okay, I changed quite a few things, but what could be the problem? Low air? Top up the tank... nope. Still cycles without firing. Low battery? I plugged in the charger for a little while just in case, but I doubted that was the problem. And it wasn't.

Okay, check the LPR pressure... 85 psi. Perfect. No creeping, no nothing. Low main pressure? I had no gauge, but I swapped to a different Minireg anyway. No change. Did I do something to the ram? I had a rebuilt (or at least cleaned and greased) spare available, I swapped that one in... and it was even worse. Now the bolt only cycled about half it's usual travel.

Wait, what? Was the solenoid clogged? Did I snip an O-ring and a piece got caught in a passage somewhere? Was there milling debris in the hammer passage? I tried a stock bolt, I tried no bolt at all- again, no change.

Then it finally dawned on me... a good fifteen or twenty minutes later.
These old boards have physical "pots" for adjusting the dwell and ROF- actual dials you turn with a screwdriver, not software registers you program in through a little LED screen.

Yep, apparently when removing the board to patch the wiring, I'd bumped the dwell pot to near-zero.


It's things like that that keep me from getting too conceited.


And, of course, the obligatory "After" shot: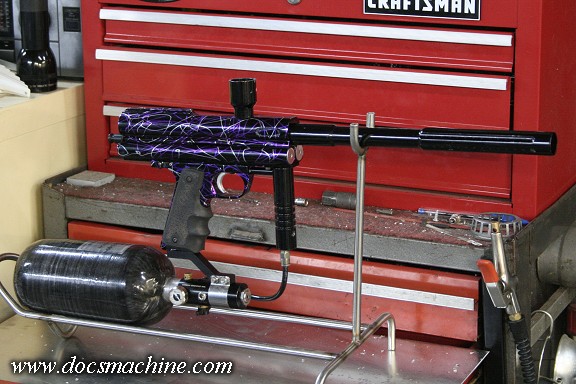 Shoots like a dream, too. I've always liked the older Angels- there's bits I don't like, such as the aforementioned oddball ASA threading, and especially that accursed wiring harness- but overall, when in good repair, they're great markers.

Doc.



Posted on Aug 18, 2012, 1:49 AM

Respond to this message

Goto Forum Home

Responses
I had a similar problem.. , Aug 18, 2012
Proving it's mettle on the field of battle. , Aug 18, 2012

Ahh, a Doc in his natural habitat.... , Aug 18, 2012

Actually.... , Aug 20, 2012

Accidental? Forgiven.. , Aug 20, 2012

Stands. , Aug 18, 2012

Good idea. Andrew, Aug 19, 2012

More details?. LGND, Aug 21, 2012

Dyna details.... , Aug 21, 2012

Re: Dyna details.... LGND, Aug 24, 2012