Proving it's mettle on the field of battle
by

The not-quite-yet-properly-open local field had another play day, so I dragged the Angel and a selection of others along. I almost overcompensated for the last time I played, when multiple minor problems (mostly minor things like an ill-fitting tank fill nipple) took my various markers offline, by loading up on a dozen markers.

But I was more confident now- last time I'd been pretty busy right up 'til game time, and didn't properly test or try- plus, who can predict things like the pin breaking off one of my Halo drive cones?


This time I'd taken the time to give my primaries a quick service, and of course the Angel was fresh out of a rebuild and full testing. The end result? I had only two problems the entire day: Halfway through my second game with it, the E-Blade halfblock started giving me weird inconsistent cocking issues, causing the occasional double-feed, and then finally a chop. Again, it puzzled me for a moment, since it's been so long since I've experienced it, but it was, of course, a low battery.

Back at the tables, I gave it the ol' highly scientific tongue test, and sure enough, it's pretty flat. No biggie, I'd brought spares (both 9V and AA) but I'd planned to play the rest of the day- or as much as I could, anyway- with the Angel. Give it a good thorough testing.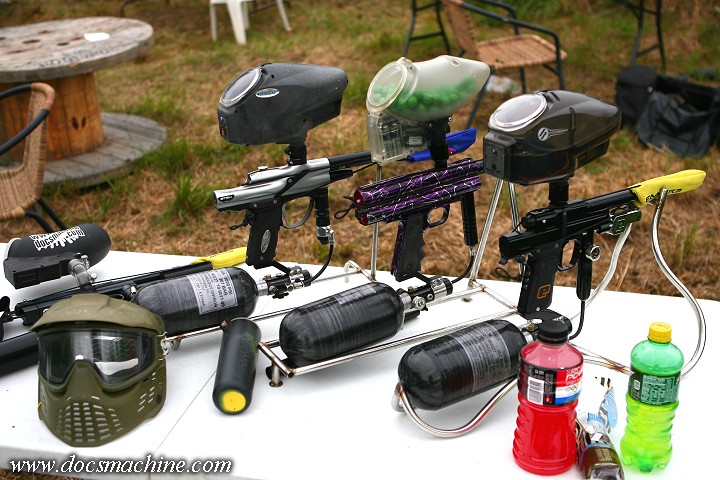 The verdict? Perfect. Surprisingly consistent, given the old and occasionally dimpled paint, and zero chops, breaks or misfeeds for 400+ rounds. (This group is mostly kids with Tippmanns, though there's a smattering of somewhat higher-end stuff.)

No eyes and no force-fed loader, no chops or breaks.

Oh, the other of the two problems? The Sniper II on the left, which I'd built at about 11:00 last night from an old-style unmilled RF body I'd gotten in the mail earlier that afternoon, couldn't chrony under about 325 fps. I had no spare springs, the adjuster was backed out as far as it would go, and oddly enough, the reg was no help at all. Adjusting it made no difference whatsoever, unless I turned it down too far, at which point it'd go from 325 to 180, at which point the valve would stick open. Nothing in between.

Again, no biggie. I'll get it dialed.

Doc.



Posted on Aug 18, 2012, 8:47 PM

Respond to this message

Goto Forum Home

Responses
Ahh, a Doc in his natural habitat.... , Aug 18, 2012

Actually.... , Aug 20, 2012

Accidental? Forgiven.. , Aug 20, 2012

Stands. , Aug 18, 2012

Good idea. Andrew, Aug 19, 2012