Some clarifications...
by Doc Nickel

On the flight in, Cordova is on a semi-regular supply route, and chances are you'd fly in on a commercial puddle-jumper, probably something like a Twin Otter. They'd simply pay for your ticket- how that's handled on the paperwork end might well be another story, but they're not going to shove you into a cargo plane or charter you a private flight. (Unless, perhaps, it's an emergency.)

Long hours and the potential for little sleep is, however, quite true. As noted, when the season is in full swing, the plant is going wide open and flat out, and everything gets pushed to the breaking point.

Like any manufacturing business, if a line is idled, it costs big- you might have two dozen people standing around, at anything from $10 to $40 an hour each, doing nothing. And that doesn't count the fish, which is very heavily subject to time-out-of-water restrictions, handling methods, and others. That vat of 20K pounds of fish has to sit for 12 hours while you get your beauty sleep, then have a nice breakfast before coming out to fix the sluice gate? Sorry, the whole mess as to be chucked, which costs a fortune in disposal costs- they can't just dump it all overboard.

Back in 2014, I took a tour of a nearly-identical plant in Seward, which was, at the time, idled but in the stages of gearing up for the start of the season. Here's one of the processing machines: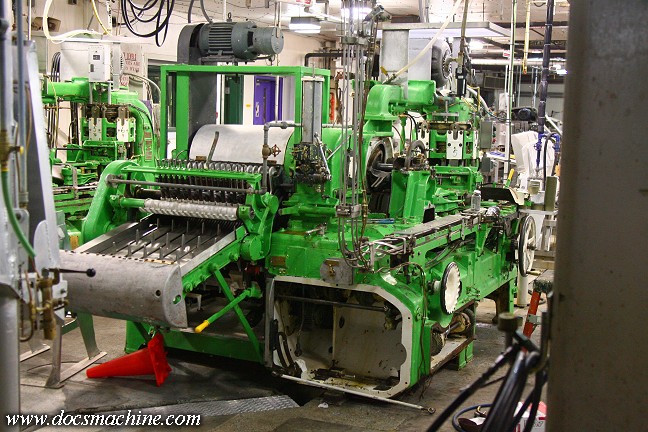 They had I think three of those, all of which were leased- you cannot buy them- and the newest of which was made in 1968.

Now, don't take that wrong- each was immaculately maintained and very well cared for. The manufacturer has virtually all the necessary replacement parts in stock, so if something breaks which can't be repaired, they have ready stocks on hand to send out hot-freight.

The lady giving us the tour basically gave us the same schpiel as in that Craigslist ad- they were semi-desperately looking for a new machinist, as their current one, who had been with them for many years, was looking to retire. I got the impression, though nothing was quoted, of $50-$60K/yr with some pretty stout benefits. Keep in mind that was 50-60K for 6 to 7 months of the year.

Seward, at least, having the benefit of being a somewhat larger town than Cordova, and also part of the road system- Seward's about a 90 minute drive from where I sit.

That Craigslist deal isn't terrible- maybe not a cushy IT job in Silicon Valley, but it's also not a Bataan Death March these guys made it out to be.


Doc.



Posted on Mar 17, 2017, 1:07 PM

Respond to this message

Goto Forum Home