Weekend Woodworking!
by Doc Nickel

Late last fall, I picked myself up a Shapeoko 3 CNC router, partly for something to practice with (that I didn't have to invent, build and tweak
) and partly for some future products.

However, I've only tinkered with it a bare few times, partly due to limited time, but mainly because the thing produces more dust than a two-hour artillery barrage.


As I'm currently seriously limited on space, there's nowhere I could put it where it wouldn't be spewing dust all over precision machine tools, welding benches, or engines-in-progress. Here during the summer, if the day's not too rainy, I could (so far theoretically) set it up outside and let it make however much dust it likes.

But that doesn't help me in the winter, and of course our summer is all of sixteen minutes long.


The common solution for these things, if you don't have a spare bedroom or portable garden shed to set one up in, is to build an enclosure, a cabinet which contains the dust, and controls it with the use of a vacuum or dust collector.

They're easy enough to build- it's just a box with a lid- but I have almost zero woodworking tools, and nearly zero room in which to work on such a thing. So I recruited a buddy of mine, who'd almost as busy as I am, and we finally were able to mesh schedules enough to get together and build this thing.

I'd had a rough idea of what I wanted, and he's an experienced woodworker, so he was able to engineer a way to actually build what I had in mind.

After that, it was fairly simple- sketch, measure, cut, screw.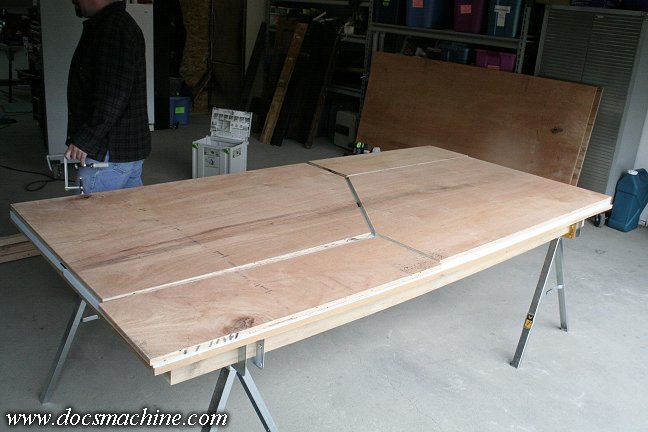 Took 2-1/2 sheets of plywood, and three 12-foot 2x4s.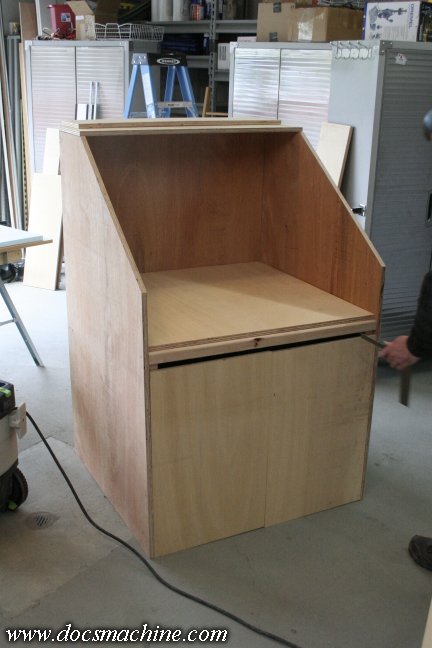 The angled face will have a hinged plexiglass cover, so I can see what's going on, the front flat face right below the angles will have a fold-down flap in case I need to slide larger work into the machine, and the cabinet below will hold a shop-vac of some sort, and possibly a dust collector. (A device that separates out much of the debris before it reaches the vacuum, so the vac's filter lasts longer.)

And, of course, handles, maybe some lockable casters, a nice coat of paint, a set of under-cabinet LED lights at the top of the enclosure, and a few other bits and bobs.

Then I just have to find a place to park it.


Doc.



Posted on Jun 12, 2017, 2:57 AM

Respond to this message

Goto Forum Home

Responses
Nice!. Daniel Meyer, Jun 12, 2017

I know neither you nor Doc would settle for half-assed.... eddi, Jun 12, 2017

Don't foreget to personalize the case!. MephitMark, Jun 12, 2017

Static charge.. Shalom, Jun 13, 2017

Re: Static charge.. Dave H, Jun 13, 2017

Static.... Doc Nickel, Jun 13, 2017

Dust boot would help a lot too. y0da900, Jun 15, 2017