Bit of a brain fart for Thursday...
by Doc Nickel

Got wrapped up in a few things today, and my mind was elsewhere. Didn't properly set the scheduler for the comic, so I had to replace Wednesdays' strip with Thursdays. It'll sort itself out as soon as the system updates again, but for the time being the date will be off and Wednesday's strip is missing.

Sorry for the inconvenience, I'll have myself properly flogged as soon as I can find someone to do it who doesn't charge by the hour or stick me with the hotel bill.

In the meantime- I had a pretty productive day, got three items mailed off today (one of which was a bit overdue
) and damn near finished off a fourth. Later in the day, I wandered back over to the big mill while the boss wasn't looking, and both installed the freshly painted motor junction box, and the cable to the VFD.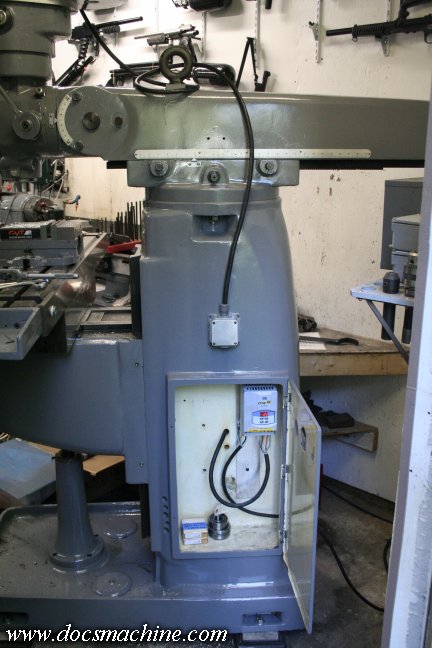 That box on the side of the column originally had a flip-up cover, which made me think it was originally an outdoor-style electrical outlet, I suspect installed to provide power to a work light.

Then again, it had the original motor cable running through it- through a US-thread conduit fitting- so it may well have been mounted for that purpose, too. Might even have been factory, as it was the original green color, and I'm not at all sure this machine had ever been repainted.

Either way, I removed the flip-up cover and fabbed a quick flat aluminum plate to turn it into a simple junction box. Another cable strain relief out the back gave me a cord to plug into the wall, and we're back up and running with proper power.

Of course, it's no good to have to reach under the table, open the side door and push the button on the VFD to start and stop the spindle, so next, as soon as I get the chance, I'll need to whip up some proper start/stop controls.

Doc.



Posted on Jul 6, 2017, 3:02 AM

Respond to this message

Goto Forum Home

Responses
Re: Flogging on a budget. J.Cook, Jul 6, 2017

Re: Flogging on a budget. Dave H, Jul 6, 2017

Flogg-O-Matic. Lord *Redacted*, Jul 6, 2017

It may already be there. I'm afraid to search Youtube now. n/t. eddi, Jul 6, 2017
Kinda related sort of maybe. Antknot, Jul 6, 2017

Remote controls.... Doc Nickel, Jul 6, 2017