What I'm doing with this...
by Doc Nickel

I'm actually kind of surprised no one guessed.


Basically, this is a new drivetrain- I hope- for my 4WD Corvair.

The current setup uses a 1977 Chevy Blazer drivetrain, which wasn't particularly high tech even back then, and is basically an antique today.

It runs, drives, steers and stops, and I drove it daily, 20 miles to work each way, for several years. But, it also gets about 10-11 MPG on a good day, maxes out at about 56-58 MPH, handles like a logging truck, and has the suspension articulation of a strip mall.

I thought it was cool, when I was a kid, and still think it's kind of cool today.

I think we all know by now I march to a different drummer- one who can't really drum at all, and apparently sometimes has a meth habit.


I quit driving it daily about 5-6 years after I started Doc's Machine, partly because I was having a tough time affording insurance for it and the other cars, the gas mileage was killing me, and the State changed some lift laws (which they then rescinded a few years later, as it turned out they infringed on more than a few stock trucks.)

And of course it's been sitting ever since, since I really haven't had the time or money to do much with it. (About half the gas in the tank is probably still circa-2004 vintage.
)

However, shortly after parking it, I started thinking about ways to do it better. After many years of idle, when-I-could-spare-the-clock-cycles pondering, I started thinking the ideal upgrade would be a full transplant of a modern drivetrain- that is, independent front, a modern overdrive transmission, EFI, and so on.

Fast forward a few years, and in an effort to try and actually get rid of a few projects that have been littering my mind, I put it up for sale. Had some nibbles, but nothing serious- and even the nibbles were just guys looking for a cheap off-roader to get back and forth to their off-in-the-woods hunting or mining cabins.

Well, kind of like the Cutlass, I then decided I'd keep it and do something with it, and made up a list of parts to collect.

Ideally, I was hoping for a wrecked/rollover truck, with a reasonable amount of miles on it (sub 150K) preferably a Chevy with the Gen4 5.3 engine. I figured I'd be lucky to get something as new as an '01 to maybe an '03, since anything newer would be out of my price range.

This was also not a high priority project (and still isn't, for those of you wondering where your Automag is, Jeff
) so it wasn't a case of going out and searching, but more a case of keeping my ears open and waiting for a deal to come by.

Well, this was it.

A complete 2014 chassis- with 10,000 miles on it! - for just $1,200? I practically broke a leg running for the phone, and was out the door to go check it out in fifteen minutes.


Story is it was an insurance write-off. Involved in a low-speed collision by a self-insured party, most of the damage was sustained higher up, in the grille and hood. The worst part of the damage is the impact drove the AC compressor backwards, which smashed the passenger side cylinder head, the water pump and the plastic intake manifold.

The original owners wrote it off, and sold it for parts. The guy I got it from bought it for the body and interior pieces, so the frame was surplus. He'd more than made his money back on the body pieces, so he priced the chassis cheap for a quick sale.

And quick it was, it was listed for about an hour.


I was not 'ready' for it, but it was too good a deal to pass up. I'm sure I'll sit on it for a while before being able to do anything significant with it, but I was looking at paying $1,200 for a high-mileage core 6.0L engine all by itself.

At least the first half of this coming summer is scheduled for more mods to my Cutlass (rear axle and the rest of the brake system upgrades, some interior work, bucket seats, console and floor shift, possibly some preliminary bodywork, etc.) so I'm not going to be getting to it anytime soon.

But that's all right, it'll give me time to ponder. The preliminary idea- that is, going back to the original upgrade plans- was to drop down a tad from the current 37" tires (which are badly worn and closer to 36") to something more like a 34 or 35 (I originally built the car around 33s) and lower the car body further down over the frame- like maybe as much as a foot.

Something like this bad photochop: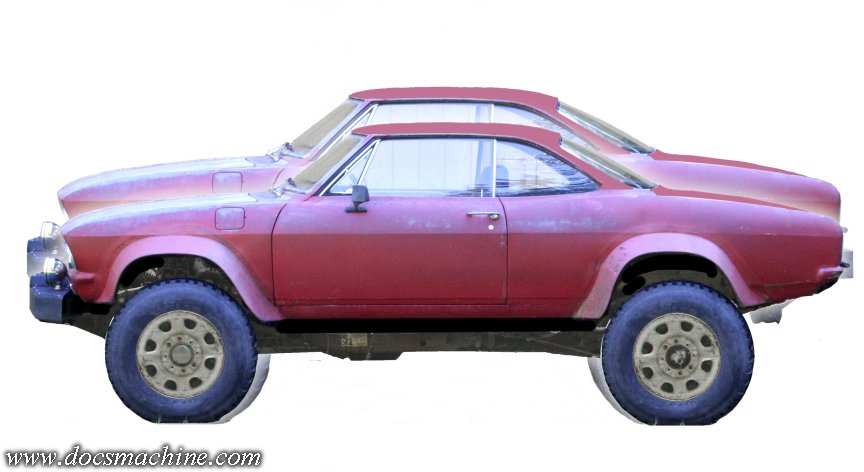 Basically make it a bit less absurd, and a bit more daily-driveable. And easier to get into.


Yeah, it's going to take a huge amount of work. I did the majority of the work on the original car in about eight months. Today, on the plus side, I have FAR better tools. Better welders (and more of them) a plasma cutter (which I'd have given part of a liver for back then) better shears, a far larger collection of air tools, a bigger compressor, machine tools of course (it was working on this car in the first place that cemented my desire for my own mill and lathe- I bought the JET mill the year after finishing this) and, let's not forget, a far greater selection of aftermarket parts and accessories. (Steering components, shocks, EFI computers, you name it.)

On the con side, I of course also have a lot more calls on my time. In that original eight months, I did almost nothing else but come home from work and start wrenching on the car. Right now, I've got about fifty-three things I need to get done just today.


And, of course, it also depends on how radical I want to get. Do I just shorten the frame and leave the rear leaf springs? Do I four-link it? Do I add a 4" or so suspension lift to the front? Do I try and transplant the ABS and traction control? (I'm told it's possible, but what all that entails I have no friggin' idea.) The transmission is electronically shifted- I'm going to have to look up standalone controllers for that, or figure out if I can transplant the original truck computer. Floor shift, transplant an complete Chevy truck steering column, or add flappy-paddle shifters to my existing column.


Do I cage it? Tube frame it? I can't use my existing mechanical speedo, do I swap over a Chevy truck gauge module, or go with some high-dollar digital aftermarkets?

Lots O' questions. No real solid plans just yet, but I should have something worked up by the time I start on it.

In 2027 or so, most likely.


Doc.



Posted on Dec 3, 2017, 1:17 PM

Respond to this message

Goto Forum Home

Responses
venting. caldaq, Dec 4, 2017

Re: venting. Dave H, Dec 4, 2017
Oh yeah.... Doc Nickel, Dec 4, 2017

mess it is now. caldaq, Dec 4, 2017

That's kind of the plan.... Doc Nickel, Dec 5, 2017

Ageing. caldaq, Dec 5, 2017
Minolta. Shalom, Dec 5, 2017

Nothing special.... Doc Nickel, Dec 6, 2017

Sic transit gloria mundi. Dave H, Dec 6, 2017

Re: Sic transit gloria mundi. Typeminer, Dec 6, 2017

MC-Rokkor 50/1.2. Shalom, Dec 6, 2017

Nice!. Doc Nickel, Dec 6, 2017