Sorry guys, not much I can do about it...
by Doc Nickel

Patreon gave us no warning- and I mean zero. I still have yet to hear about this from Patreon, I only know what I do from secondhand sources.

Yeah, the way I understand it is, as noted above, it's to offset the cost of the credit card transactions. I am of course not real happy about it, and at least fifteen patrons have already cancelled their support over it, but unfortunately there's nothing I can do about it.

Really, you and I pay the credit-card fees every time we use the card, it's just "built in" to the overall cost of whatever it is you're buying. Patreon was simply one of those new companies that didn't "build it in" to the system right at the beginning, and now that they're big enough, the fees were starting to be a significant percentage of their profits. This was a poor way to implement it, but really, it was coming sooner or later.

As for alternate means of supporting TWB, you're always welcome to hit me up with PayPal at your convenience (either doc@docsmachine.com or ordering@docsmachine.com )

And, while I hadn't been intending to announce it 'til I was a lot further along, I've got TWB books back in the works. The $25-and-up tier donors on Patreon have already received their copies of the brand-new Book 7, and I'd hoped to have at least a limited run of them available for everyone else by now, but the scheduling just wasn't going to work.

I'm setting up to do them fully in-house, and they will remain in-house for the foreseeable future. Those long-time readers will know the last time we had a new book out was 2010, and I was once again hoping to have them out for the holiday season this year. When it became obvious that wasn't going to happen, I got rather angry, took the money I'd long since set aside for the books, and bought my own damn equipment.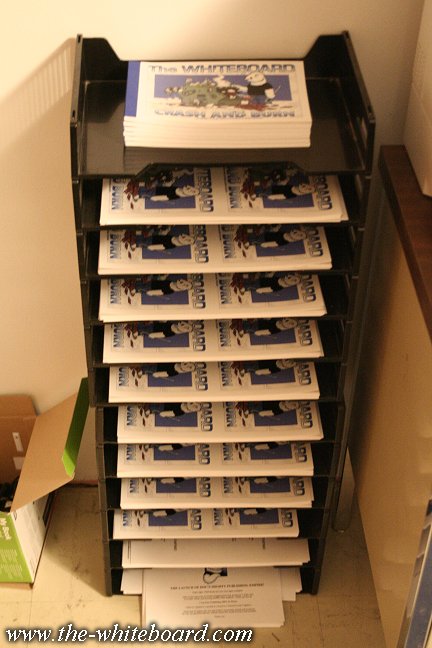 The mechanical side of it is fairly easy- I had books as good as my originals within fifteen days of placing the order for the first piece of equipment.




But, that means I need to reformat all the old artwork (since I never had the actual publisher files for the old books, and I doubt he'd give them to me if I asked) before I can reprint the books, and that will all take time.

I'm hoping to have everything, Books 1 through 7, available by anywhere from February to March, but like anything else, I can't make any promises.

But, if it all comes out as I hope- which it should, this isn't rocket surgery- from there on out, I should be able to release two books per year. Maybe even three, for a year or two, just to catch up. (Keeping in mind we're years behind. Book 6 ends somewhere around strip #1050 or so- that's almost fifteen hundred strips ago!)

Plus of course I can finally start doing the extra comics and special-editions I've been thinking about, maybe even a big compilation/anthology, and other fun stuff.

So sorry about the Patreon hassles, but I think we can survive it.


And as always, thanks for your generosity and support!

Doc.



Posted on Dec 7, 2017, 4:08 PM

Respond to this message

Goto Forum Home

Responses
Also on the list. Hunting Guy, Dec 7, 2017

The "set".... Doc Nickel, Dec 8, 2017

Everyone is missing Book 6... :). Doc Nickel, Dec 7, 2017

What Sort Of Printer(s)?. Lord *Redacted* the *censored*, Dec 7, 2017

Blog post.... Doc Nickel, Dec 8, 2017

Both good choices.... J.Cook, Dec 8, 2017

Consumables. Antknot, Dec 8, 2017

Consumables.... Doc Nickel, Dec 10, 2017
Vacuum filters.... J.Cook, Dec 11, 2017

Oh hey, it *is* HEPA.. Bruce Bergman, Dec 11, 2017

Indeed!. J.Cook, Dec 12, 2017

Yep, recycled art! :). Doc Nickel, Dec 7, 2017