You beat me to the punch, Katie. I was going to title the thread, "SaintsFanToo, where are youuuuuuu?"
Head Coach -- suspended for the year.
Departed Defensive Coordinator -- suspended indefinitely.
Asst. Head Coach / Linebackers coach -- suspended for six games.
General Manager -- suspended for eight games.
Two second round picks, kaput.
And a half-mill down the drain.
Even without the bounties, I always thought that Sean Payton got a little too cute at times. Like in the preseason when the Saints broke Carson Palmer's nose. (Yes, that was the year before Gregg Williams went to New Orleans.)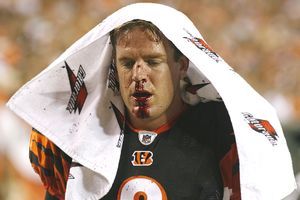 Seems like the Saints blitzed like mad during preseason games a lot. They did it again last year against the 49ers, and it actually came back to bite them in the playoffs. Now with the bounty thing, their machinations came back and bit deep.