BWCA 2010
(Sept 18 Sept 23)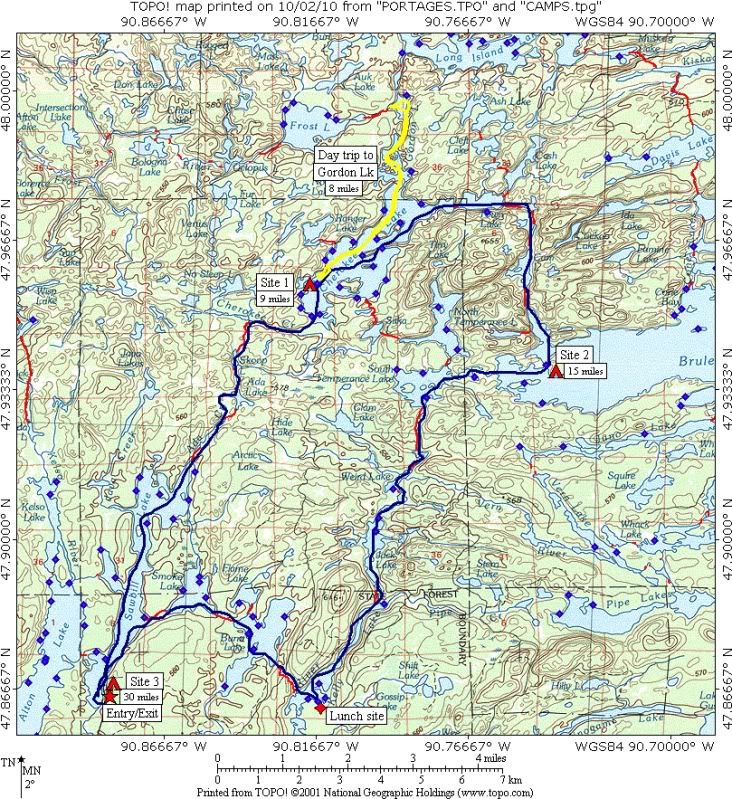 This was the first time weve used Sawbill Lake entry for our annual trip. We entered on Saturday, September 18th. It was a cold, windy, and overcast morning. With a strong west wind these were not the ideal conditions to start the trip that we enjoyed last year. Our plan was to head to Cherokee Lake for our first camp. After spending 2 nights there, head over to Brule through the northeastern chain of lakes for our next 2 nights on the very west end of Brule. This route from Cherokee to Brule is fairly challenging but some nice scenery along the way and no other people. From Brule, head down to Kelly and then west to Burnt Lake for our last camp.
The forecast for the week did not look promising. Sat & Sun looked nice but most of the rest of the week called for a 50% or better chance of rain with highs in the upper 40s. It looked like we had a good chance of a break from the rain on Wed as that was the only day with less than 50% chance of rain. Fortunately the actual weather was much nicer than the forecast. Mon & Tue were very windy but the only rain we saw were a few sprinkles overnight Mon and Wed. Our Wed travel day was nearly perfect. Thur morning was cold, windy, and drizzly but we had altered our trip slightly so we were in good position for it.
Day 1: Sawbill Lake entry to Cherokee Lake (9 miles, 4 portages, 330 rods; low=42 high=56)
We stayed in Tofte the Friday night so Saturday morning we got up, drove up to Sawbill, unloaded the trailer, and started paddling by 7:45. A strong west wind made for a cold and bumpy start. We decided to paddle into the wind to get to the west shore and follow it up to the north end of the lake. Once in the lee of the west shore it felt much warmer and nice calm waters for paddling.
Craig & John paddling on Sawbill: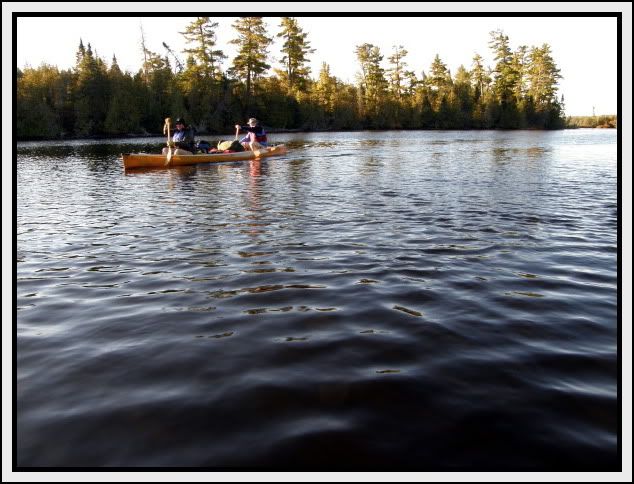 We made our way north to the 80rod portage into Ada Creek. The creek started out beautiful; with high rock walls on the east, an island and hilly areas to the west.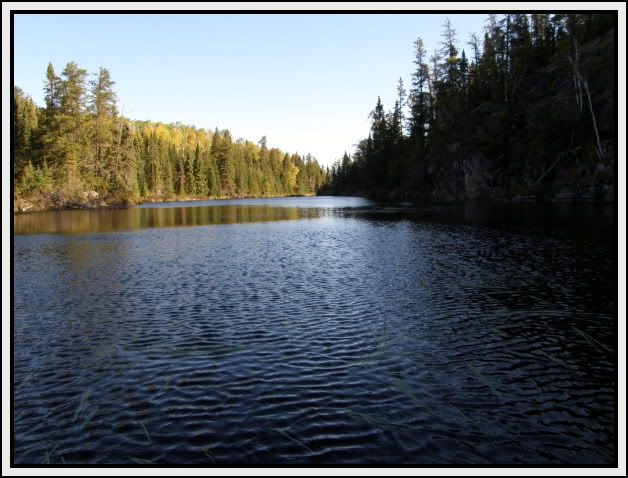 The creek then became a twisty maze through a tall grassy bog. We slowly made our way through a very narrow channel with some very tight turns. As we came out the other end of the bog we saw what appeared to be Ada Lake. We double-checked the map as we were looking for another 80rod portage from the creek to the lake. By making our way through the boggy maze we had by-passed the portage. Oh well, therell be other portages ahead so on we went.
On the north end of Skoop Lake we had our longest portage of the day at 180rods. Although long, it was not a tough portage. Cherokee Creek was a very nice sheltered area. We went through another short boggy area but it was much straighter than the stretch on Ada Creek.
Cherokee Lake is beautiful; lots of islands and bays throughout the lake. After checking out the first 8 sites along the west shore we went back to the 5th one up from the south; a very nice site on an east facing, rocky point. We arrived here about 12:30 and had lunch.
Lunch-time view: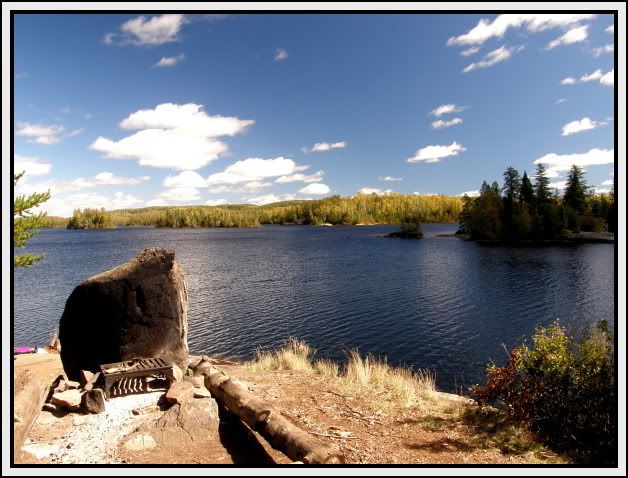 After lunch we setup camp and relaxed the rest of the afternoon.
Sheltered tents: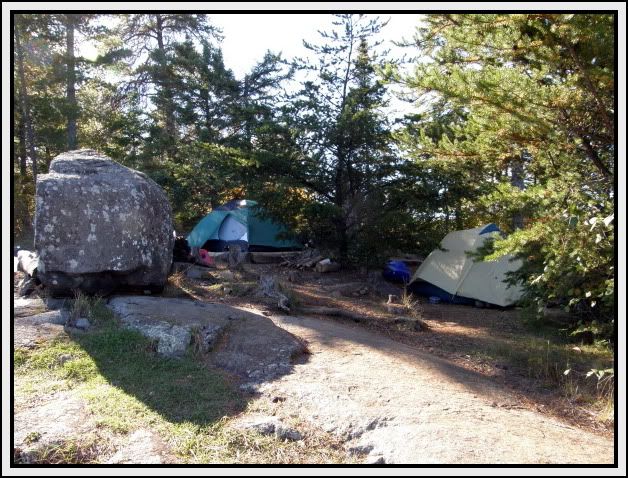 When you were out of the wind and in the sun it felt very nice and warm. Once in the shade it felt much cooler as John had to use his jacket to cover up.
John taking a break: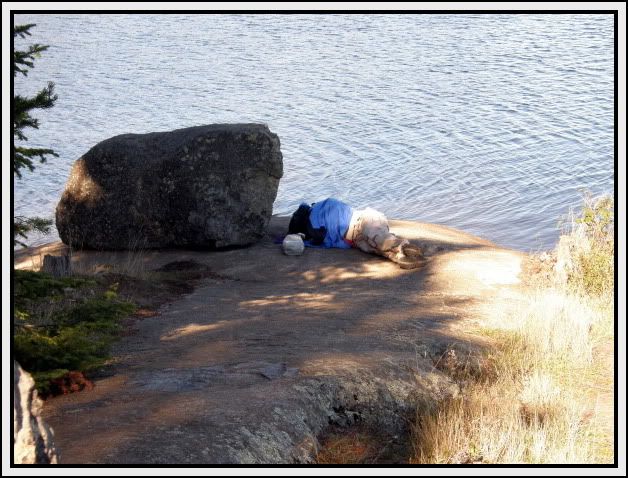 Later afternoon we prepared our traditional first night steak supper. My stomach wasnt real settled (not sure if it was from the summer sausage at lunch or what) so I just had the steak with a cup of cream of chicken soup fore-going the Spanish rice. Our first evening on Cherokee was a nice one.
Evening view: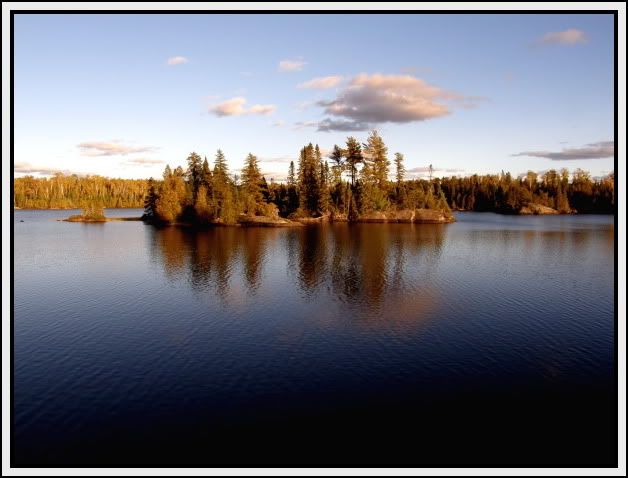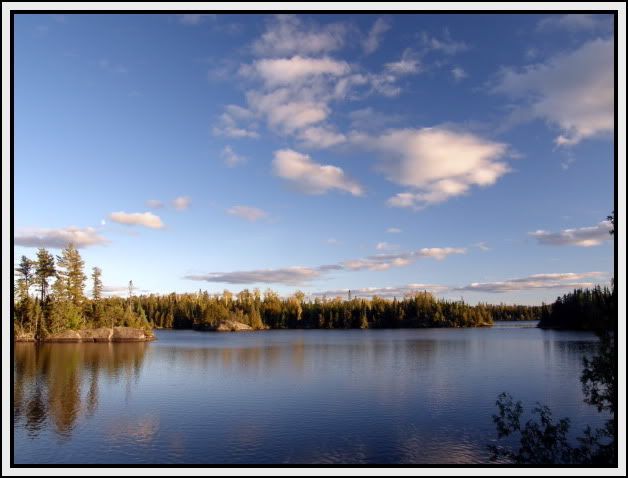 The moon appears: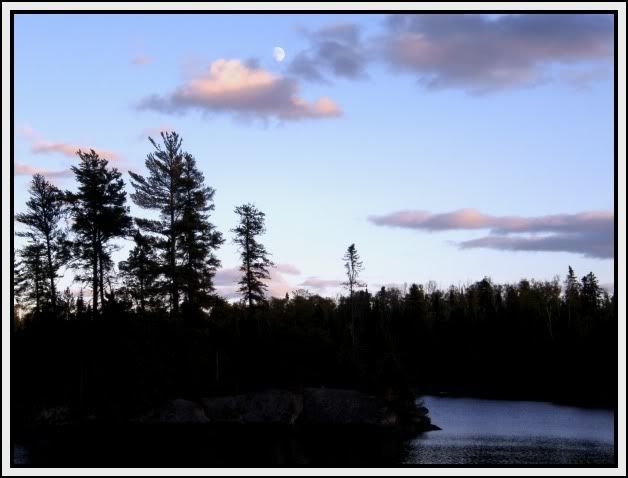 After cleanup I turned-in (about 7:00), as did Craig. Chris & John stayed out to talk and enjoy the evening. I got up about midnight to see fog along the lake and a very starry night. There was no wind and even though a bit cool I stayed out longer than needed just to enjoy the surroundings.