Day 6: sort of
Woke to a damp windy morning. It wasnt a heavy rain but a wind driven drizzle as we took the tents down. We were glad that we didnt have to paddle out in these conditions and instead headed to Sawbill Outfitters for hot showers. Even though the shower building isnt heated and it was a cool morning, the hot shower was much appreciated.
We headed down the trail and had a late breakfast at Satellites Café. It was a very good breakfast with huge pancakes. We then drove down Hwy 61 in the rain; heavy at times. At places where we got close to the lake we could see the huge waves breaking over the rocky shore. It was a good day to be driving instead of paddling. I dont know how much rain they got up around Sawbill but this was the day that parts of southern Minnesota received 10-12 inches of rain. Many towns along some of the smaller rivers south of the cities had very serious flooding. We drove through some heavy rain at times but had no problems along the way.
Crew at our site on Brule Lake: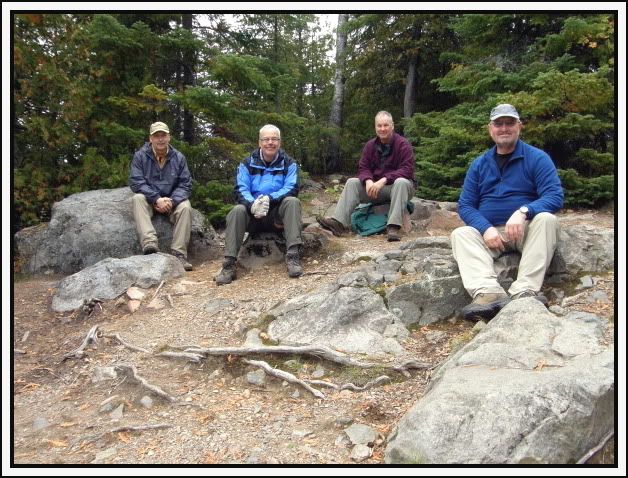 The trip was cut short. However, with the less than favorable forecast going in, it turned out to be a wonderful 5 days (6 if we count Thur morning). The fall color was already being displayed during this third week of Sept. Thursday morning driving down the Sawbill Trail toward Superior we saw many areas of reds & oranges. Due to the wet conditions we did not get any pictures of this color. Next years trip (our 25th annual trip) is planned and just waiting to reserve our permit. We only hope that it provides us with some days as nice as this year.
In this year's group shot we're all in jackets and John's even wearing gloves. In contrast, last year's group shot we were in short sleeves and even short pants.