[IMG]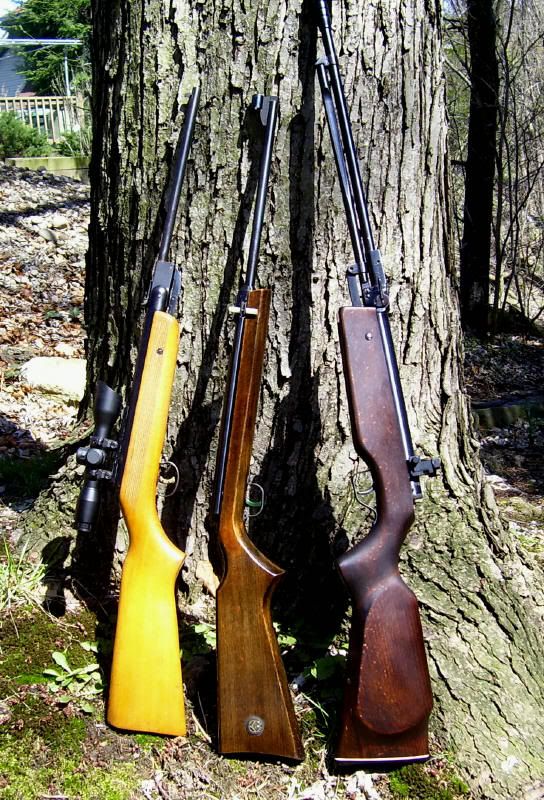 [/IMG]
These are three offerings from FEG in Hungary, sometimes known as Relum, Telly, Grothaus, Neckermann, Precise Minuteman, just to name a few. All three of mine are .177.
The little blonde on the left has no markings whatsoever, other than "Made in Hungary" and the number stamp "8 1946," which may or may not be a date stamp. It has the customary Relum longitudinal grooves on either side of the forestock, the rounded front forks, and the unique concentric screws at the front of the trigger guard. The outer hollow screw mounts the action to the stock, and the inner screw adjusts engagement of the direct-sear trigger, all hallmarks of Relum Breakbarrels. I added the scope rail, and it's currently wearing a Leapers 4X32 crossbow scope. I find the crossbow reticle very handy for this gun.
In the middle is my most recent acquisition, a very unique little sidelever. This one is stamped Neckermann, which I have learned is a German mailorder house that used to sell air rifles. It has the traditional Telly emblem on the stock. The powerplant is a very unique design that involves a sliding transfer port and a very light piston with what appears to be a nylon piston ring. I posted pictures of the innards on the vintage forum.
On the right is what is known as the Relum Supertornado. This one is stamped "Precise Minuteman." It's an underlever taploader with two concentric counterwound springs. I have added a QB79 front sight assembly with a clear disk aperture, and a Crosman 411 peep. It is quite heavy, and while it is a tad buzzy, it has a very stable shot cycle.
There's all sorts of strange stuff out there, and most of it winds up passing through my hands.
I think we're all Bozos on this bus.